The lifestyle of vegan and vegetarian people is a great example to follow for anyone interested in this way of life. Taking the step to change your omnivorous eating (eating both plants and animals) is a crucial step and a bit complicated for some people.
A vegan is a person who does not eat any animal products, does not eat any meat (pork, beef, fish, chicken, etc.), but unlike some vegetarians, they also do not eat eggs, dairy products, or honey.
3 Easy to make Vegan Meals
It is important to note that to become a vegan, it is advisable to have the advice of a nutritionist so that the diet includes all the vitamins and minerals needed to stay healthy.
Among the many foods that have prominence in the diet of veganism, we find legumes, nuts, cereals, soy milk.
To be able to carry out a vegan diet without endangering your health, a series of guidelines are established that must be followed, such as these:
The body must be supplied with omega-3s through the consumption of flax seeds.
The priority products are fruits, vegetables, and legumes.
We must eat a variety of foods.
It is essential to take a vitamin B12 supplement.
Always remember that vegan food never has to be boring or tasteless. If it tastes delicious, no one will miss the meat! Really!
Delicious recipes -Vegan ramen!
It consists of a wheat noodle soup with different ingredients, traditionally including meat or fish, but you can also make all-vegetable versions like the one we offer.
The broth is the essence of ramen. Each cook brings his or her touch, but it always takes time to make it delicious and comforting.
It can be spicier or sweeter and can be served both hot and cold. In the most common preparation, first, the broth is made, and then the noodles and the rest of the ingredients are added.
Ingredients:
1 onion,
ten shiitake mushrooms,
200 g natural tofu,
5 cm kombu seaweed,
20 sprigs of chives,
3 cm fresh ginger,
200 g ramen paste,
salt.
In a saucepan, put a liter and a half of water and bring it to the boil. Once it is boiling, add a teaspoon of salt and the kombu seaweed.
Chop the onion into small squares and add them too. Once it is boiling again, add the sliced shiitake mushrooms, and the tofu cut into small cubes.
Let it cook for 20 minutes and then add the ramen paste. Please note that depending on the type of pasta you have chosen, it will take some time or other to cook. See the instructions on the package.
Once all the ingredients are cooked, grate the ginger with a grater as finely as possible, place it in a sieve and squeeze it to extract the juice. Then add it to the soup you have previously prepared.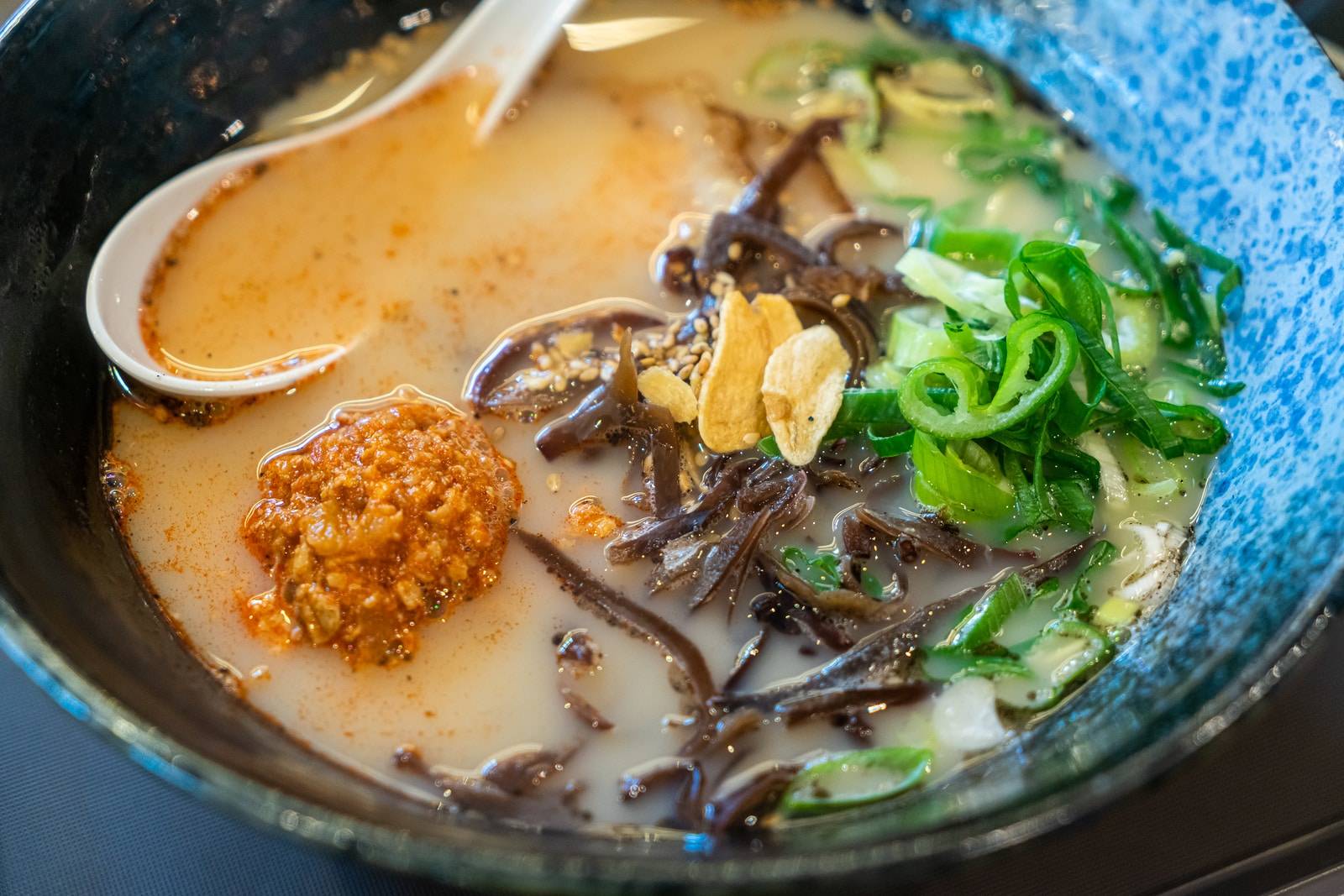 Pancakes with chia
Pancakes are easy to make, but they don't have to be unhealthy. These pancakes contain large amounts of chlorophyll thanks to the green leaves of spinach and spirulina. They also provide protein, vitamins, minerals, omega three, and antioxidants.
The combination of spinach, chia seeds, and spirulina is very beneficial. It has depurative and antioxidant effects, improves blood quality, eliminates heavy metals, is reconstitutive, and strengthens immunity, vision, and hair.
These pancakes can be taken as a snack between meals or as a delicious and nutritious dessert.
Ingredients:
3 handfuls of spinach,
two tablespoons chia,
six tablespoons water,
130 g buckwheat flour,
one tablespoon olive oil,
190 ml almond milk,
one tablespoon spirulina.
Green salad
It is effortless to provide our body with the vitamins it needs. Just take plenty of green vegetables, fruit, nuts… And best of all, organically grown. This varied and nutritious salad provides us with vitamins A, C, K, and those of the B group, including folic acid.
 Ingredients:
4 kale leaves,
¼ lettuce,
50 g fresh beans,
50 g sweet peas,
one kiwi,
one green pepper,
one avocado,
some coriander leaves,
some fennel leaves,
some carrot leaves.
For the sauce:
25 g of basil leaves,
100 g of cashew nuts,
two tablespoons of nutritional yeast,
one teaspoon of sea salt,
one clove of garlic
1 tablespoon lemon juice,
125 ml of water.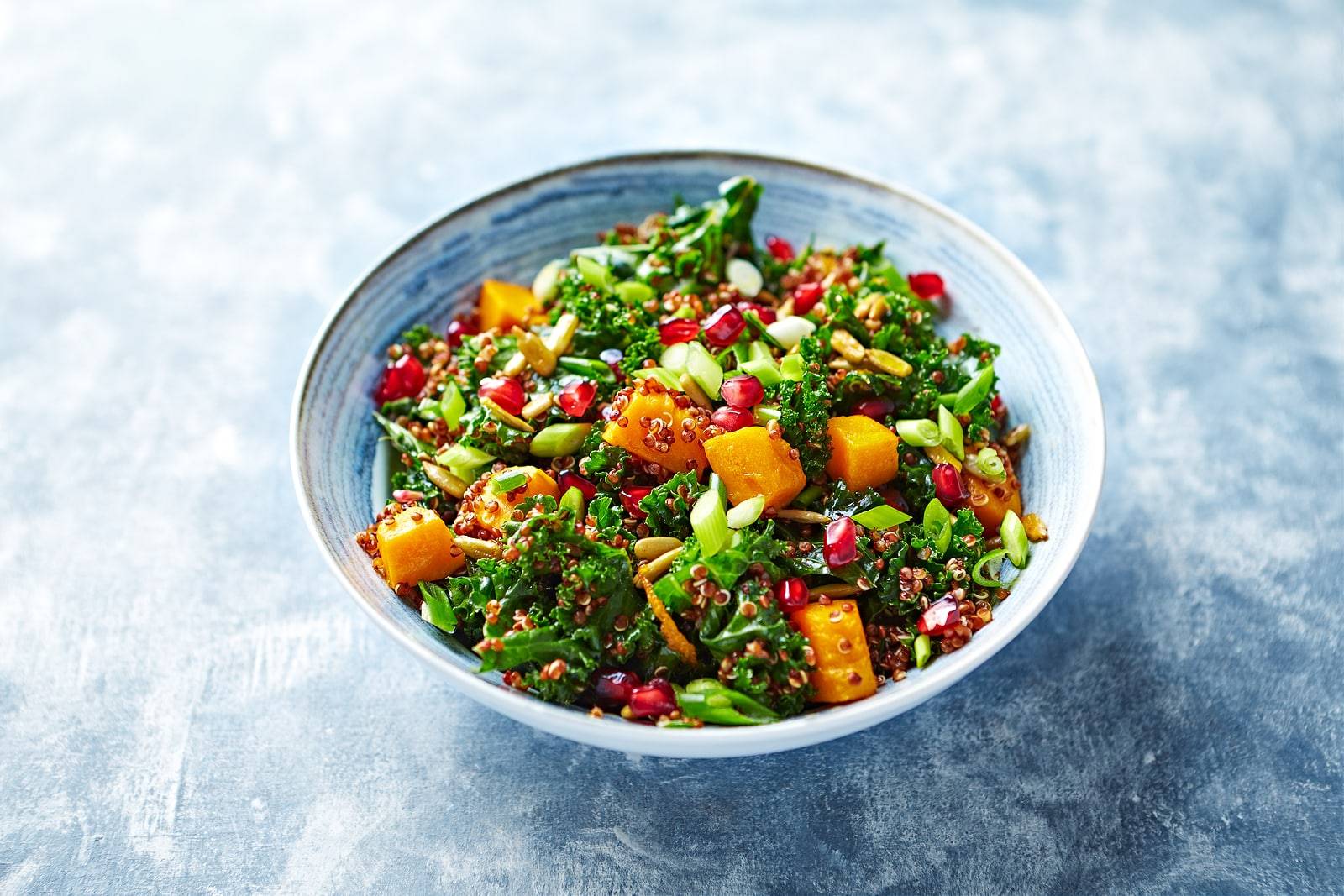 Preparation:
For the sauce, soak the cashew nuts for at least 4 hours. Then strain, wash and mash them with the other ingredients until a creamy sauce is obtained.
For the salad, wash the salt and massage the kale.
While you let it rest, prepare the other ingredients: lettuce, cut with your hands; beans, thinly sliced; kiwi and pepper, sliced; avocado, diced.
Wash the kale to remove the salt and assemble all the ingredients attractively.
Read more – Vegan Oatmeal and Apple Cookies With Cherry