Christmas Weddings are Booming This 2021 for a good reason; some couples have waited long enough.
Here are some great Christmas Wedding Ideas
Let's face it: 2020 was a challenging year for couples who planned their weddings. There was lots of uncertainty and what followed was a mass cancellation of weddings. In 2021, the weddings never stopped, and more are on the way.
Even weekend wedding occasions have become a temporary norm. As we usher in the festive season, the trend is showing no signs of slowing down. Did you know that Christmas weddings are booming this 2021? Here are some of the cutest Christmas wedding inspirations to start planning for.
Plaid Rustic-Vintage holiday Christmas Wedding Dresses
As we come to the Christmas countdown, berries, pine cones, and other plaid details can be an absolute delight. The idea is to capture the snowy winter season and the warmth that comes with it. To create a woodsy setting, you can take a few rustic farm tables or benches. You can also incorporate colored glassware and finish off with a slice of chocolate. If this won't put you in a Christmas spirit, nothing will.
A rustic vintage winter Christmas wedding with Red, Blue, and Gold
This wedding inspiration is set in the rustic grounds of a private estate ad features the most inviting winter tablescape. The romantic painted wedding cake features blue and red colors, with highlights of gold. Also, the combination of lush eucalyptus and red floral brings a sense of coziness without losing elegance.
If you love a winter wedding, the fabulously inspiring shoot guarantees lovely photography. The dreamy snow-dusted celebration and bright-colored beauty is an absolute must-see. If you're not sure of the best shades for you, take a few minutes perusing the perfect winter palettes. You can choose a luxurious gold and plum or bronze and gold.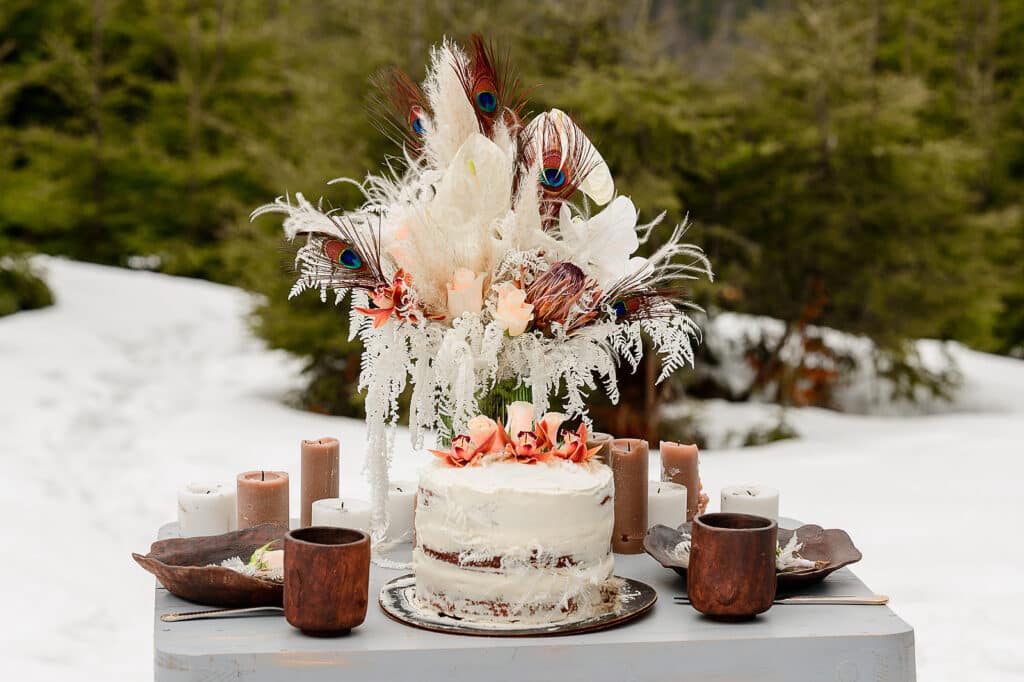 A Winter Wonderland Christmas Wedding Ideas 2021
Magdalena and Sebastian is a magical and timeless style. The ceremony was held in St. Peter's Abbey, a former cathedral and Benedictine monastery. And because Christmas was in the air, the winter wedding was filled with elegance and romance.
The flowers were designed to set exceptional scenery. It also featured love feelings with deep red, green, white, and Marsala tones. So, if you're planning to have a wedding during the Christmas holiday, this winter wedding might be for you.
Chic vintage brides Christmas Wedding Dresses
You can give your guests a glimpse of the Christmas celebration and holiday-inspired invitation. And there are endless ways to do this – from snowflakes to floral with pops of berry red. If you want your shoes to bring the wow factor, you can make them sparkly with red color. How about adding rich velvet and seasonal spirit with a red bow tie? The centerpiece also matters. You can create a festive feel with Amaryllis, Poinsettias, and roses. Don't forget to keep the guests entertained with a hot cocoa bar.
If you're planning for a romantic holiday season, Whimsie Photo and Video will ensure you have an unforgettable experience. The green and shades of reds give a whimsical feel. The ceremony backdrop with hanging pinecones brings the perfect wintery touch. You'll love a romantic and elegant rustic vibe.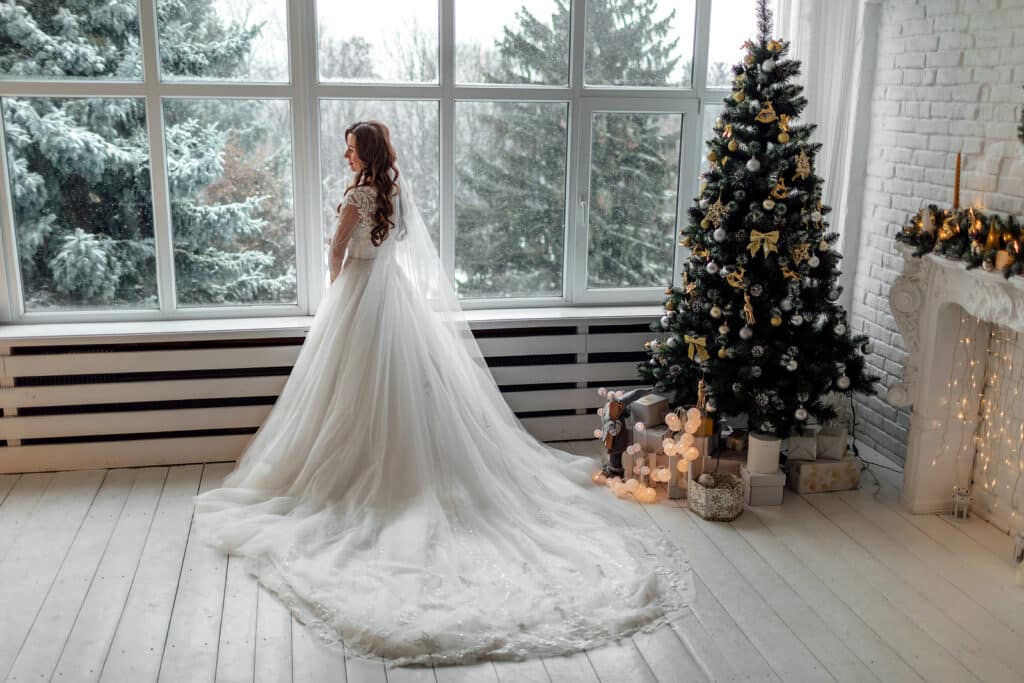 Christmas-themed wedding Boho-vintage Dairyland Wedding
When a wedding features a unique flower girl and a treehouse, it may look like an understatement. But when you add a woodland rustic and romantic affair, you bring some personal touch. And this doesn't have to happen indoors. You can look for a well-lit space that accommodates at least 200 people.
Rustic and romantic fall wedding with Greenhouse reception
You can create a rustic charm of fall colors to bring the most magical reception. With the help of family and friends, you can create a beautiful venue in the childhood backyard.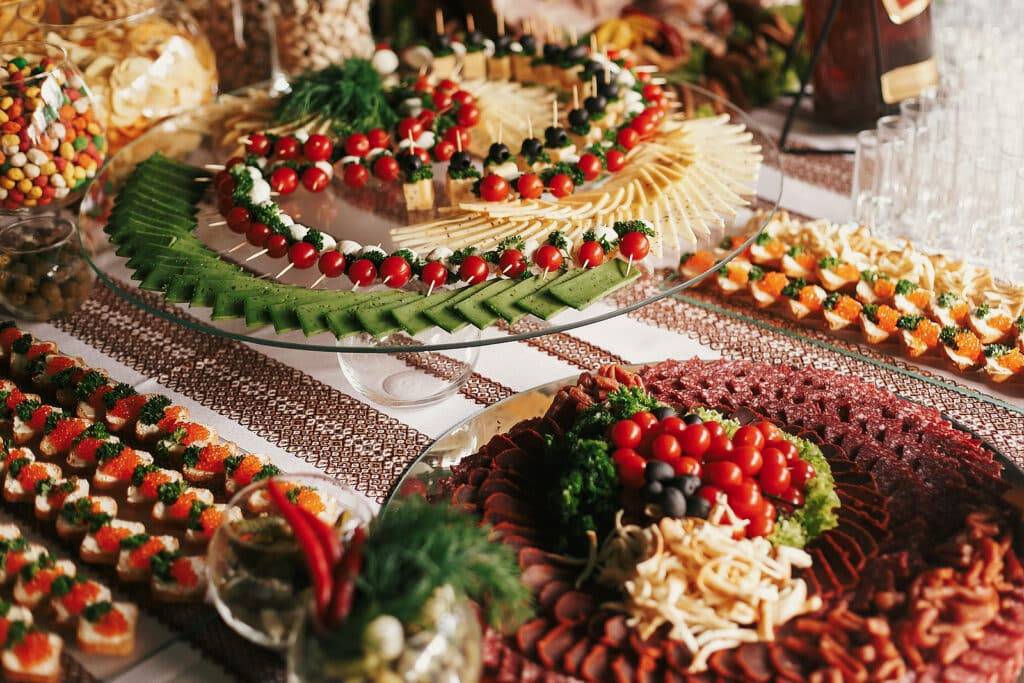 Romantic Snowy Wedding
This wedding inspiration features exquisite colors of navy, cobalt blue, and gold – it's truly breathtaking. You can go for a romantic or vintage style in an outdoor setting. The snow-white backdrop will wow your visitors.
Christmas Wedding Ideas Cascading Winter bridal wedding banquet
This woodland banquet is made of preserved flowers in white and champagne, dark burgundy, pine cones, and pepper tree berries with forest greenery. The extensive meal will not only make your day but also serve you for a long time after.
Christmas wedding decorations
To bring out the beautiful appearance, the flowers are harvested in optimal conditions. Also, they undergo a unique preservation method to preserve the beauty for many years to come. These plants are 100% natural and don't require watering.
If you're planning for a getaway wedding during the festive season, you should focus on a smaller guest count for flexibility in location. You'll not only enjoy the big day but the vacation as well (all wrapped in one).
Read more – Best DIY Gifts To Give to Family and Friends This Holiday