Best tips for hosting an elegant dinner party. Sometimes, we just need to feel a bit grown-up. We've done our share of partying and long for a little sophistication in our lives. A well-planned dinner party is the perfect solution. Follow our tips for hosting an elegant dinner party and wow your friends with a fun night of great food, laughter, and polished silverware.
Best Tips for Hosting an Elegant Dinner Party
Create a Menu
Before the big day, plan out your menu, do all the shopping, and cook ahead as much as possible so you can enjoy your time with guests. When planning the menu, go for gourmet dishes, yet keep it somewhat simple so you aren't overly stressed about everything turning out. Don't plan a delicate soufflé for dessert if you've never made one before.
Set the Mood
You may love the latest pop music, but when hosting an elegant dinner party, opt for something different. Dinner parties are designed to help us relax. Get your guests in the mood for a relaxing evening the moment they walk through the door. Classical music, Italian music, or French music are all the perfect backdrop for your classy dinner party.
Stock the Bar
Your guests expect to enjoy a cocktail or two before, during, and after the meal. Stock your home bar with all the usual necessities. If you've never invested in proper glassware, now is the time! Impress your guests by having the right glass for the right drink. Don't pour white wine in a red wine glass or mix an old-fashioned in a highball.
Dust off the China
Remember that stuff you registered for? You finally get to use it. You should be using it way more often than you do, but that's another topic.
Use an elegant dinner party as a chance to go all out. Set the table with your prettiest dishes and throw a lace tablecloth over the table if you're in the mood. If grandma's silver is stored in the basement, now is your chance to let it shine.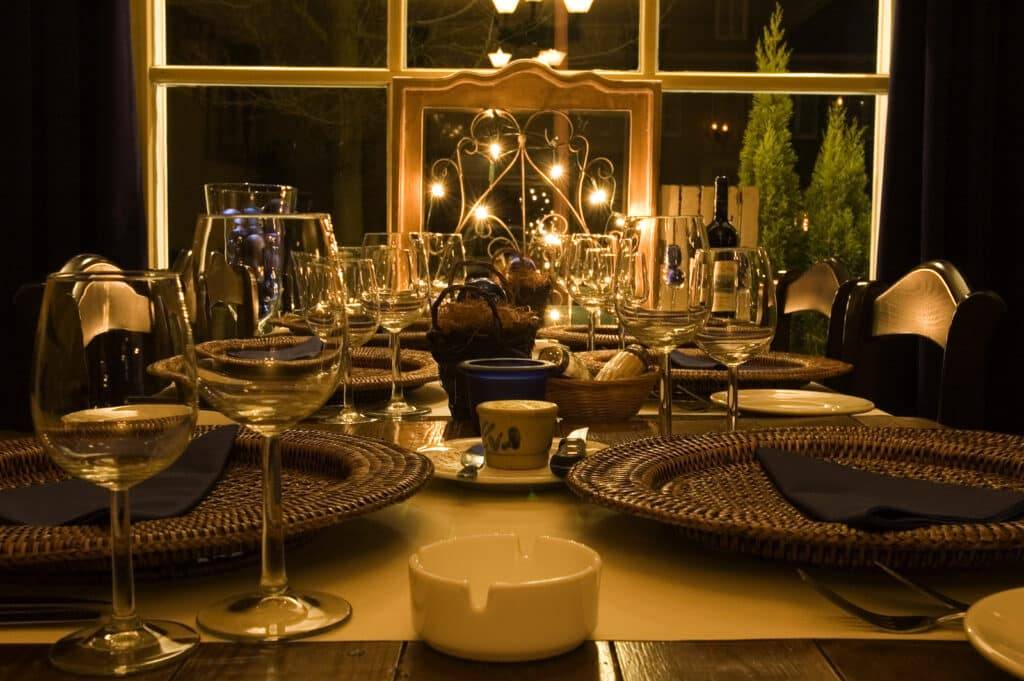 Best Tips for Hosting an Elegant Dinner Party
Dim the Lights
Dim lights make everyone feel relaxed. When your guests walk in, they'll know that tonight is all about kicking back and enjoying the finer things in life.
Candles are also a must to add to the soft lighting. Add some tea lights to your table setting, along with pillar candles throughout the house.
Is anyone else feeling relaxed just by reading this? Imagine how thankful and impressed your friends will be when they leave your house, realizing they've forgotten all of the cares of the workweek. Take the weight of the world off everyone's shoulders with these tips for hosting an elegant dinner party.
Read more – 10 Top Ways to Make Valentines Day Special