How to pick the right tie is a question that has been asked for centuries? Accessories always matter to those who care about fashion.
How to pick the right tie goes hand in hand with the look you are trying to achieve. Are you going for Timeless and Classic or Trendy? Elegance is also a consideration when you want to know how to pick the right tie.
A suit is the personification of all these things, and can easily make someone stand out in a crowd, be the cherry on top of a dream job interview, and make you feel like a million bucks. There are many different suit colors; be it your classic black, maybe even a navy.
How to Pick the Right Tie?
Feeling daring? Try something out of the box, like purple or red. While a suit is a full package, I've always felt like ties and eye-catching accessories are the coup de grâce, the extra kick it needs to truly turn heads and have you the talk of any room you're in.
The question then becomes, what tie do I wear with a suit? What's a good pocket square? Moreover, why are shoes so important? Fear not, dear reader. Let's take a stroll and in no time, we'll have you looking like a star.
We start with the tie. There are millions of ties that go with a suit, but know that there isn't a perfect tie. People have different colors that they like, different designs, and different styles. Some like bow ties, some go a regular tie, I prefer skinny ties.  For this article, I'm going to use the quintessential black suit.
An item that should be in every man's closet, the black suit can be worn for every occasion. From a fancy date to a dream job interview, you can not go wrong with black. Now comes the tie, and picking it can be a bit tricky. I would let the occasion define the tie you wear. If you're going on a date, maybe get a little flashy with it.
Pinks, reds, a dark blue. For our example though, I'll use a black tie on a white shirt, a timeless look. Make yourself stand out and the person that you're on the date won't be able to help but stare.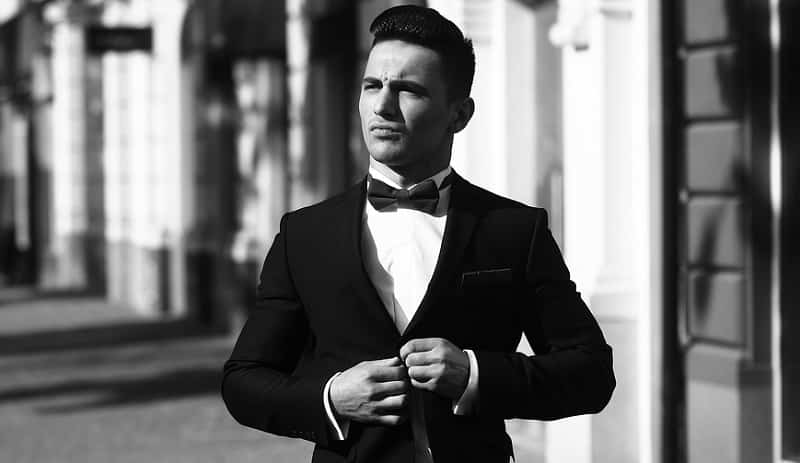 Let's accessorize! The best of the eye-catching accessories for a suit is the pocket square. They help complete the suit, yet don't draw attention away from it. Going with our black suit and black tie for our example, what pocket square would look best, and how do we properly display it? To read more on how to pick the right tie for a particular suit, read more here.
If I'm using a plain black skinny tie, I can work a bit with the pocket square. You don't want to use too many designs, like a checkered tie with a plaid pocket square; it's just too much. With a plain black tie, though, I can have some fun with it. Maybe a navy checkered square, or red paisley.
Something that will accent the look, and be truly eye-catching. When I wear a black suit and tie, I like to use a clean, white square, with only a bit of the square showing. It is a look that has been around for years because it simply works.
Finally, we go to shoes. As with our other pieces, there's a lot of different shoes to go with, and it depends on the occasion. With our black suit and tie, it's best to go in a black shoe. For a navy suit, though, Brown has become the modern look, with a black belt. You can choose a glossy shoe and have them shined before wearing, you can choose wingtip shoes for an eye-catching look; there are multiple options, see what catches your fancy, and wear them with confidence.
Ultimately, how to the pick the right tie is a personal decision. Simply take some of these tips into consideration when you're looking at wearing a suit for your next occasion, and make a pick that you love. The best choice when choosing how to pick the right tie is picking with confidence, because the more confident you feel, the better you're going to look in it!