How to make a small motorhome feel bigger is a question often asked before people head out to the open road. If you have a small motorhome, it can feel claustrophobic. Here are some tips to answer the question of how to make a small motorhome feel bigger.
Table of Contents
The average cost of a small motorhome, like a class B model, was over $130,000 in 2021 and more than $145,000 in 2022. With a massive spike in demand during and after the pandemic, prices rose steadily. Who can blame anyone for choosing a small motorhome after being stuck at home for so long?
There are several benefits to choosing a small motorhome over a larger model. Smaller motorhomes are easier to drive and park, fit into smaller parking spaces, and cause less road disruption. While they may not be cheaper than larger models, you should pay less for fuel costs on your adventures.
How to Make a Small Motorhome Feel Bigger
However, no one likes feeling cramped on a road trip holiday, and if the weather keeps you inside for a few days, you can start to feel the pinch. Knowing how to make a small motorhome feel bigger will make everyone more comfortable.
Our tips on how to make a small motorhome feel bigger start with helping make it look more spacious. Then making more physical space is even better for knowing how to make a small motorhome feel bigger. So let's start with tips on how to make a small motorhome feel bigger!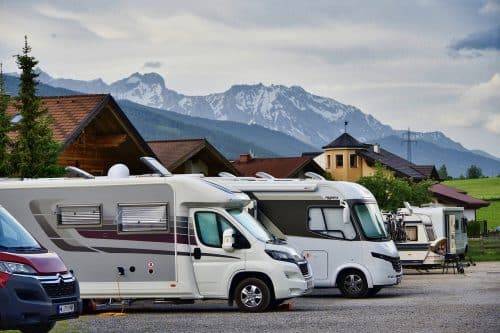 Make Your Small Motorhome Feel Bigger with Natural Light
A bright indoor space always feels more spacious. Natural light has many health benefits and helps to regulate a healthy sleep pattern. It will help you to sleep under the stars and wake up with the sunrise, ready for the day's adventures.
Sometimes, how to make a small motorhome feel bigger starts with your windows. Suppose your motorhome has small or very few windows. Install more or bigger windows that let sunlight pour in.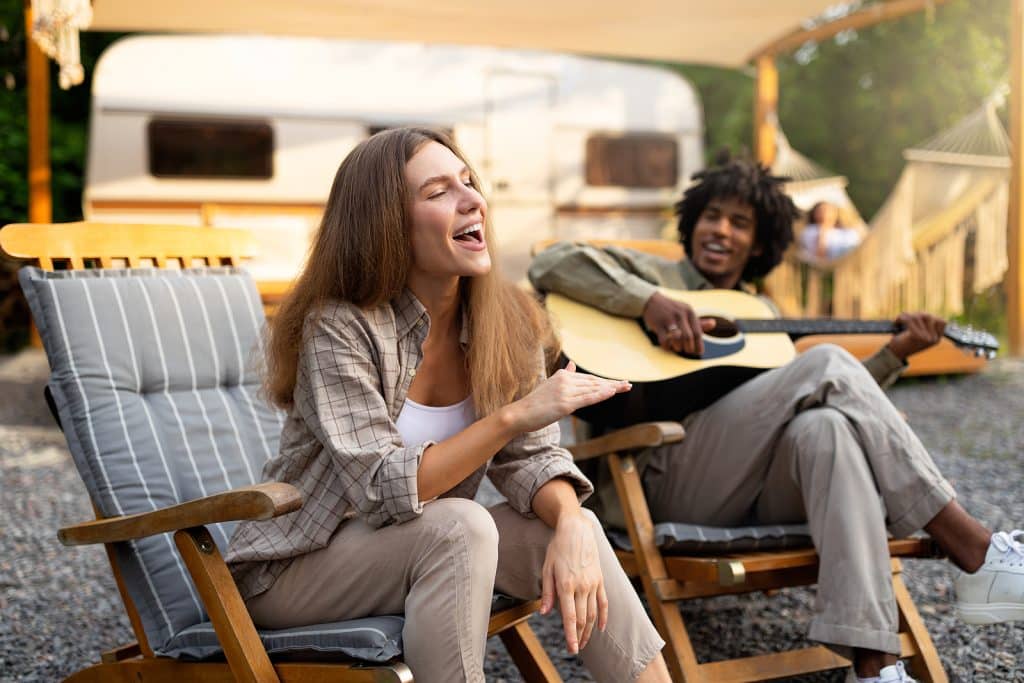 You can add UV window film protection to filter harmful UV light while keeping things bright. This protects your skin and eyes and keeps your interior items fresh. Protective window film helps to keep your windows in better shape on the road, too, taking the brunt of chips and heavy hail.
Windows are a wise investment for a small motorhome. From late morning to late afternoon, the sun is right over your head, and you may find your small campervan a bit dark even on a bright day. Installing a skylight can also make a huge difference, and van conversions offer you the choice right from the start.
Avoid installing too many curtains, vertical blinds, or drapes as these block sunlight. If you need some extra privacy, you could use patterned valances. At night, you could pull down stacked horizontal blinds tucked away at the top of your window frame.
Design a Delightful Outdoor Space
You bought your motorhome to see more of the outside world. When you've parked, you want to relax in the fresh air or fire up the BBQ. That's why designing a versatile outdoor space you can easily set up is another great answer to how to make a small motorhome feel bigger.
Your awnings are key here, so be sure to invest in high-quality ones. Mesh awnings work well to shade you from the sun but still offer a view of the sky. Waterproofing is far from their forte, so back them up with a rain cover and UV sunshade for the best of both worlds.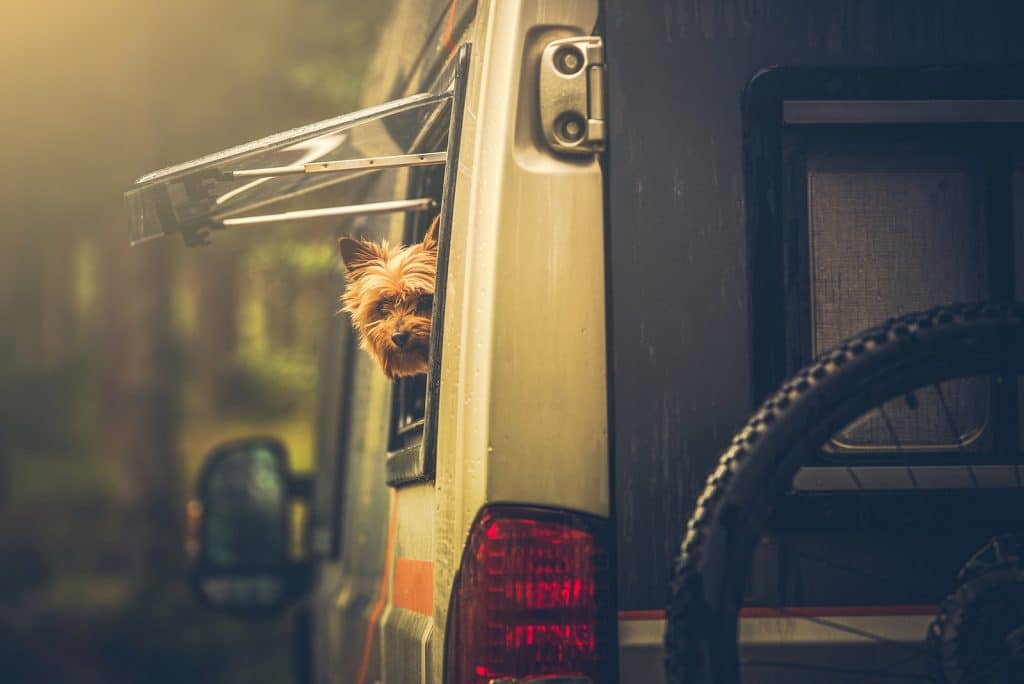 You can install weatherproof outdoor lighting into your awnings or bring portable lights that stake in the ground or hang from above. Solar-powered portables save on batteries; you can set them up around your campsite for an ambient perimeter.
Make a Small Motorhome Feel Bigger By Going Outdoors
Feel free to go nuts with your outdoor space with eye-catching patterns, polka dots, two-tone stripes, and whatever bizarre styles you can think of. You will stand out at the campsite, that's for sure!
Make a small motorhome feel bigger by adding functional seating and a table outdoors.
Buy stacked and folding furniture and give it a home in your interior space storage; this makes it easier to find and set up. You could invest in a screen tent to create an extra room outside of your small RV, perfect for chilly nights or rainy days.
Buy a quality portable grill, a camper-friendly dining set, and maybe a cocktail mixer. Fancy something lighter? Try a homemade lemonade kit. Go easy on glassware for obvious reasons – better composite options out there keep your food and drink fresh, and they are safer than glass.
Make a Small Motorhome Feel Bigger With Bright Interiors
We mentioned the importance of natural light. Now let's talk about what to do with it once it's inside your small RV. Even with the biggest windows in the world, you can still live in a gloomy place without the right interior design.
Paint the interior of your small campervan white or a very light color of your choice to boost ambient brightness. Another tip on how to make a small motorhome feel bigger is to have your walls reflect the light instead of absorbing it. That is why white or very light colors are your best option.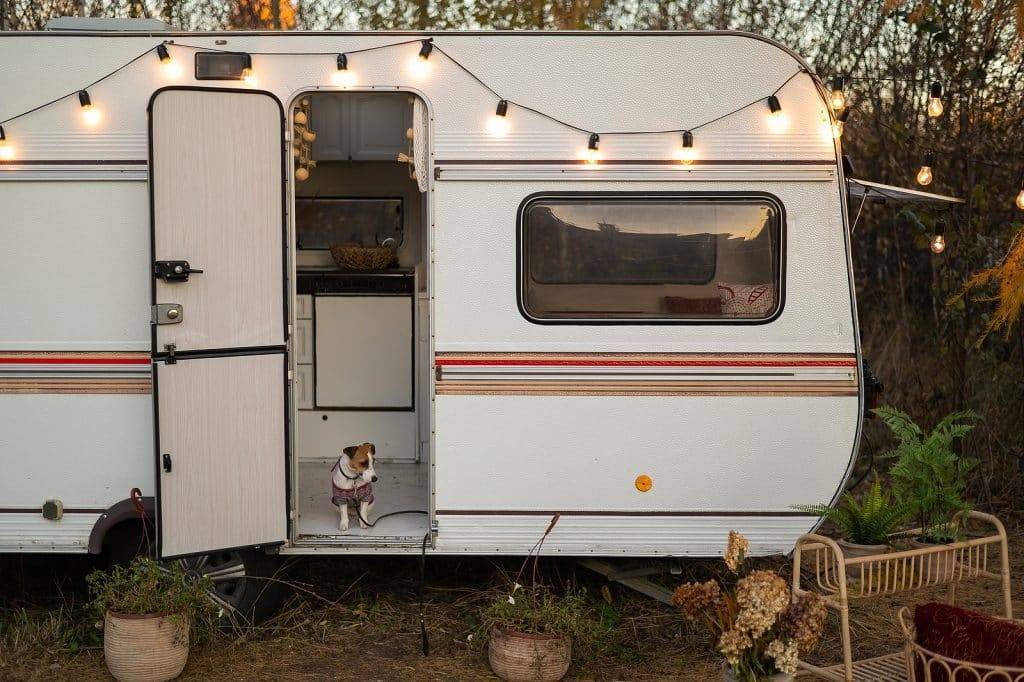 Unfortunately, many small RVs come with a dark blue or brown finish. These colors can look stylish with the right interior design, but they have a way of stealing your light. Unless you are always in very sunny places and want a cave-like feeling inside, choose other bright, light colors, as close to white as you can get it.
Make a Small Motorhome Feel Bigger With LED Lights
For darker days and dusks, choose warm LED lights to brighten things up. Fluorescents may save you money, but they cast a cool white-blue on everything, and that's far from cozy. Incandescents give a warm glow, but they get hot and use more electricity – this harms your budget and could even be a fire hazard if you accidentally cover a bulb with fabric.
Another way how to make a small motorhome feel bigger is to fit lights in every corner of your space. Central or overhead lighting spreads out in a radial gradient, making the middle of the room bright and the corners gloomy. Bright corner LEDs make your interior feel bigger and offer ample light wherever you sit.
Invest in Smart Storage Solutions
Every nook and cranny in your motorhome space is potential storage. That includes under the bed, cupboards, drawers, wardrobes, and outside hatches. How to make a small motorhome feel bigger can often begin with knowing how to be organized.
Storage benches are great for a small motorhome. They are seats, of course, but flip them open, and you have a hidden storage space. The same applies to the bed – yes, you can put things under it, but some beds offer secret storage between the mattress and frame.
Modular storage units let you mix and match items, stacking some away and combining others for versatility. Hooks on the walls are ideal ways to keep the floor and seating spaces free of coats but avoid overcrowding. Hooks behind doors offer extra storage and keep jackets and towels out of sight.
Declutter and Keep Your Small Motorhome Clean
Even with a smart interior space design, a messy motorhome will always feel smaller than a clean one. When you need to wade through trash and boxed items, life feels like a hassle to get to the kitchen. That is the opposite of how to make a small motorhome feel bigger.
Choose the right cleaning products and make sure they are small enough to tuck away when you're done. A handheld vacuum with a good broom and dustpan will handle most floor cleaning work. Antibacterial wipes will keep your surfaces clean, and if you have a hard floor, you can also use them on the floor.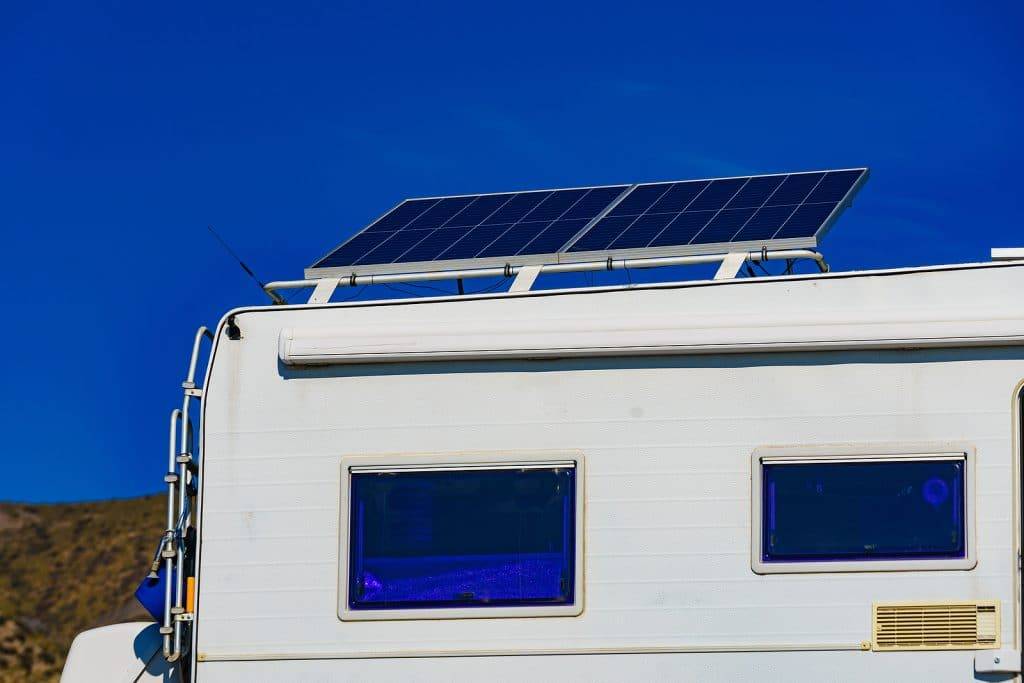 However, all those wipes can create a lot of waste, so look for reusable microfiber cloths and a multi-purpose cleaner to keep the environment happy. You want to maximize the uses of each item – everything should have at least two jobs to do in your small motorhome.
Put things like dishes away after use to keep your countertops clutter-free. When you look around, you want to see empty spaces almost everywhere if you want to know how to make a small motorhome feel bigger.
Go Minimalist and Ditch the Luxuries
How many items have you packed for a camping trip and never used? Those just-in-case products weigh you down and take up valuable storage space. One answer to how to make a small motorhome feel bigger is simple; the basics will do. You might even enjoy your trip more, free of the complications of modern living – a return to nature.
Clothing is a place to start. Pack items that match each other in a myriad of ways. Neutral colors and a little color theory will help you here. Most clothes can be worn more than once with different outfits.
For outdoor activities, layers are your friends, letting you adjust your body temperature to conditions.
You can save space on electronics with a multiport USB power adaptor. Most tech uses USB-C or micro-USB, so double down and use it to charge all of your devices. You can buy a surge protector in case of thunderstorms or power fluctuations; some campsites run on generators, so this can happen, and you want to keep your tech safe.
Use Mirrors to Make Your Motorhome Interior Seem Bigger
It may be an optical illusion, but installing mirrors in strategic spots around your small RV can work wonders to create an increased sense of depth. How to make a small motorhome feel bigger can be as simple as adding mirrors in the right places.
Full-length mirrors are best for boosting perceived space, so if you have wall space, these are your ideal choice. They need to be secured, and make sure you choose minimal frame edges to boost the effect.
You can buy top-quality plastic mirrors these days, and let's be honest, who wants a huge glass mirror in a small motorhome? That is a disaster waiting to happen. They weigh a lot, and shattered glass everywhere will ruin your holiday.
You could use horizontal mirrors that stretch across your wall space above or under your windows. Team them up with a few hanging plastic mirrors to make any room bigger and brighter, but avoid cluttering your walls with other items.
Maximize Your Time Outdoors
Even with your outdoor space, too much time at home will turn any living space into 4-walled claustrophobia. Plan hikes, adventures, and outdoor excursions in the most beautiful places in the United States.
More of a city-tripper? Park up on the edge of town and soak up all the city has to offer, from nightlife, to live shows, to fancy restaurants. At the end of the evening, you can retreat to your cozy, small RV, while everyone else heads to their expensive apartments or hotel rooms.
More time outside, in nature, will make you appreciate your small motorhome living space. You will use your energy exploring, and when you get home, the first thing on your mind will be to put your feet up, pour a cold drink, and watch the stars through your skylight!
Top Tips On How To Make a Small Motorhome Feel Bigger
Psst, we will keep it a secret if you do. A small motorhome has huge benefits over large models – parking, fuel costs, cuteness – but if you miss the extra space, follow these tips to make your small motorhome seem bigger.
Spend as much time as possible outdoors.
Keep the interior of your small motorhome bright
Get clever with your storage
Stay organized and keep your space clean
Your adventures will be so much more enjoyable if you follow these tips. You will welcome your cozy interior after a hard day's exploration.
We hope you enjoyed the article. We have more travel, lifestyle, and home improvement tips for you. Check out our site before your next trip!
Read more – DIY Solutions for Common Automobile Problems
Follow us on Facebook.