Young Ridge Winery Club sends cancer survivors on v with help of the charity Send Me On Vacation.
Join The Young Ridge Winery Club And Crush Out The Effects Of Cancer!
Young Ridge Winery launches Wine Club To send survivors On healing vacations after Cancer. Sip on a Cabernet that has you feeling as if you were on vacation at the first taste, and know that with each bottle of wine purchased through the Young Ridge Wine Club, you are raising funds to send breast cancer survivors on a dream vacation to emotionally heal after battling cancer. Young Ridge shares a generous percentage of the profits with Send Me On Vacation (SMOV) to support the cause.
Young Ridge Winery Club Sends Cancer Survivors On Vacations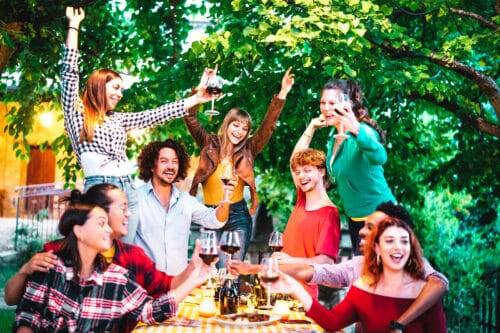 Each varietal has been blended by Julianna Beckman Gosling and Victoria Acquistapace. Victoria has been engaged with SMOV for 5 years, using her talents of winemaking to send local women from the Martin O'Neal Cancer Center in St. Helena California and Queen of the Valley Hospital in Napa Valley on vacations once cancer treatment has been completed.
"Many of our patients and nurses effected by breast cancer have become recipients of SMOV. They have experienced life changing moments on vacation. One patient in stage 4 was able to travel to Mexico to finally meet her family before she passed. Another survivor, one of our nurses in stage 3, was able to finally take the honeymoon she had dreamed of but couldn't afford after fighting breast cancer and being financially strained after years of treatment," says Coleen Winters, Patient Coordinator at the Martin O'Neal Cancer Center / St. Helena Hospital.
SMOV has been doing local events in Napa for 5 years to fund sending local survivors on dream vacation. Young Ridge Winery Club sends cancer survivors on dream vacation with help of the charity Send Me On Vacation.
From large events on the Napa Valley Wine Train to more intimate wine maker dinners with Mondavi, Hunter III, Charles Krug, Delectus, Chase and Annadel Winery, the Napa Valley has shown breast cancer survivors that they are highly dedicated to crushing out the effects of breast cancer.
Owners Leroy and Patty Young are the first vintners to create a wine club that gives back to support Send Me On Vacation on each shipment. The Young's have been making wine for over 20 years and have a renewed sense of purpose knowing that each bottle contributes to the recovery of women with breast cancer by providing healing vacations to survivors.
Join the wine club today and raise your glass to crushing out the effects of cancer. For more information call Victoria at Young Ridge at (707) 637-3135 or [email protected]
Send Me On Vacation is a non-profit 501 (c) (3) organization. Started 5 years ago by Cathy Backus, the charity has sent over 150 breast cancer survivors who have been financially devastated by the cost of treatment on a vacation to heal their body, mind and spirit. www.sendmeonvacation.org. For more information on Send Me On Vacation, click here.