Yellowstone National Park is a bucket list adventure for many people. But where is Yellowstone National Park?
Yellowstone National Park is by far one of the most famous national parks in North America and filled with a trove of beautiful landscape and wildlife. With over 3,000 square miles of space, Yellowstone has an abundance of lakes, rivers, and mountain ranges.
Established as a national landmark in 1872 by President Ulysses S. Grant, it averaged over 4,000,000 visitors a year and was named a UNESCO World Heritage Site in 1978. With a fantastic history and a part of Western American culture, Yellowstone National Park is a location that everyone should try to visit at least once in their lifetime.
It's great if you want to get a better appreciation for nature, or if you want to take your kids out of the house for a trip they will always remember.
If you decide to visit Yellowstone, there are numerous tours you can take that will let you explore the park in-depth, so make this article be a brief history of the park and its importance. By the time you're done reading, maybe you'll decide that Yellowstone is your next vacation!
Organized exploration of Yellowstone did not occur until the 1860s, but Native Americans have lived here for at least 11,000 years. This can be proven by the finding of an obsidian projectile dated back to this time, discovered during the construction of a post office in Montana.
Where is Yellowstone National Park Located?
It was determined that the projectile was of Clovis origin, and these same obsidian arrowheads have been discovered as far away as the Mississippi Valley. This is an indication that obsidian was traded between tribes, and made its way out east.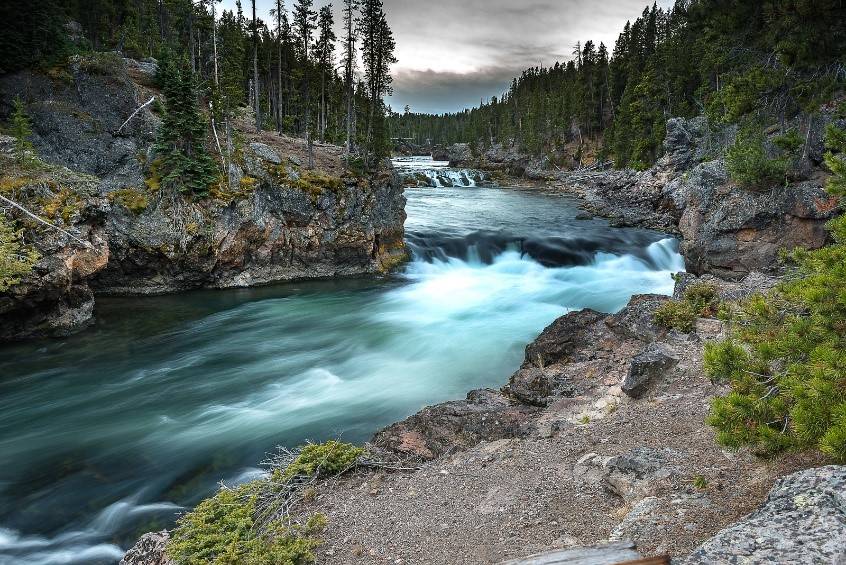 "View of Yellowstone River, Yellowstone National Park"
Yellowstone gets its name from the Yellowstone River, a body of water whose headwaters begin in this location. French fur trappers from the 1800 era, named the river Roche Jaune, translating to "Yellow Rock".
It's believed that explorers from the Lewis and Clark expedition of 1805 heard from one of the native tribes they encountered about the Yellowstone area, but didn't investigate.
Where is Yellowstone National Park located?
However, John Colter, a member of the expedition, left to join fur trappers in 1806 and they passed through what later would become part of Yellowstone National Park.
Colter described a geothermal area matching a northeastern section of the park and described "fire and brimstone", which one can assume to be the fumaroles and hot springs of Yellowstone.
Believed at the time to be a myth, numerous reports would come back from explorers describing boiling mud and steaming rivers, all which can be traced to Yellowstone.
The first true expedition of the region was the Cook-Folsom-Peterson Expedition of 1869, following the Yellowstone River to Yellowstone Lake. With a detailed journal, they brought back information to help establish a more organized expedition, led by the surveyor-general of Montana and a U.S. Army detachment headed up by Lt. Gustavus Doane.
A Montana lawyer and writer, Cornelius Hedges, was a member of the expedition and proposed that the region is set aside as a national park. The idea garnered a lot of attention, so much so that after the Hayden Geological Survey of 1871, President Grant signed The Act of Dedication, turning the area into Yellowstone National Park a bucket list adventure.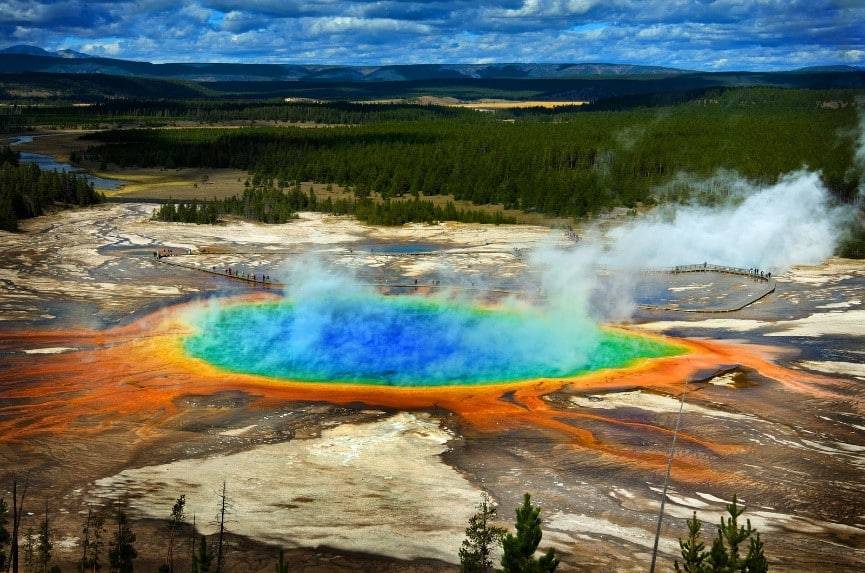 "Grand Prismatic Pool at Yellowstone National Park"
96% of the land area is located in Wyoming, 3% is in Montana, and 1% is in Idaho. More significant than the states of Rhode Island or Delaware, its home to the largest high-altitude lake in North America and the Continental Divide of North America. One cool thing to take a look at while you're at the park is a large number of petrified trees and other forest items, with such a large number that Yellowstone is the most abundant petrified forest in the world. The trees were buried by ash and soil, believed to have been caused by the Yellowstone Caldera supervolcano.
Yellowstone Caldera is the most significant volcanic system in North America and is believed to be a single magma chamber underneath the park. The chamber is 37 miles long, 18 miles wide, and 3 to 7 miles deep. The last eruption was approximately 640,000 years ago, releasing more than 240 cubic miles of ash, rock, and debris onto the Earth. Each of the three eruptions of the Caldera blanketed North America in ash and probably caused significant impact to weather patterns, resulting in the extinction of some species.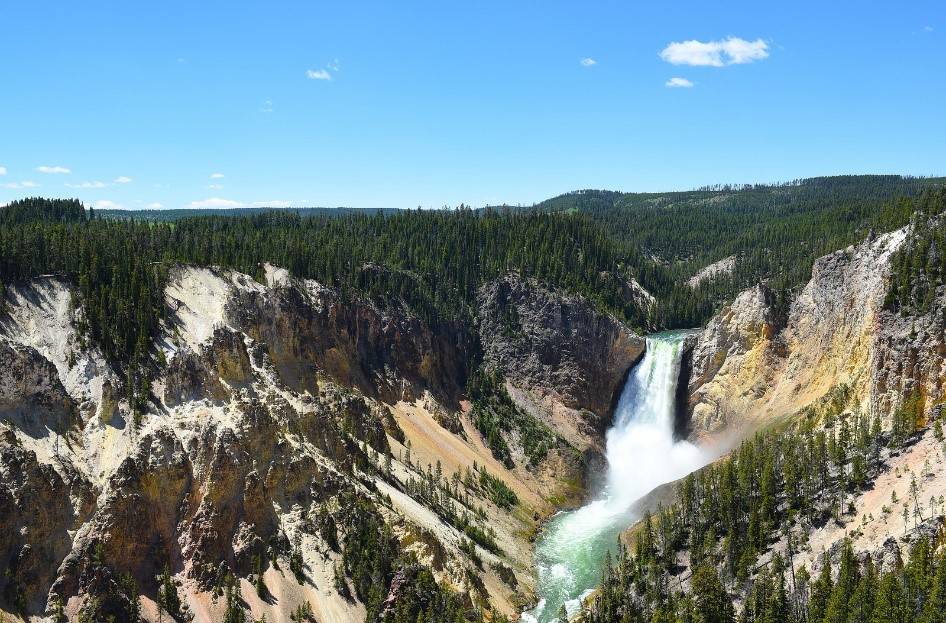 "Waterfall at Yellowstone National Park"
Another natural phenomenon at the park is Old Faithful, the largest geyser in the world. The largest of the four geysers, Steamboat Geyser, has been known to throw water more than 300 feet in the air. These are great photo shots and are one of the main reasons why people come to the park.
Over 1,700 different species of trees and other plants are native to Yellowstone, most notably the 80% of the forest filled with Lodgepole Pine trees. There are also a large number of flowering plants that have been identified at Yellowstone, mostly blooming between May and September. Different bacteria have been found in the hot springs, believed to be some of the most primitive life forms on Earth.This why Yellowstone National Park a bucket list must see for all adventure seekers.
A wide variety of animals call Yellowstone home, with grizzly bears, wolves, and bison being the most popular animals to see. With the dwindling number of bison in North America, the Yellowstone Park bison herd is the oldest and largest herd on the continent. Elk, moose, and deer are also prominent here, as free-range animals get to live in a natural habitat.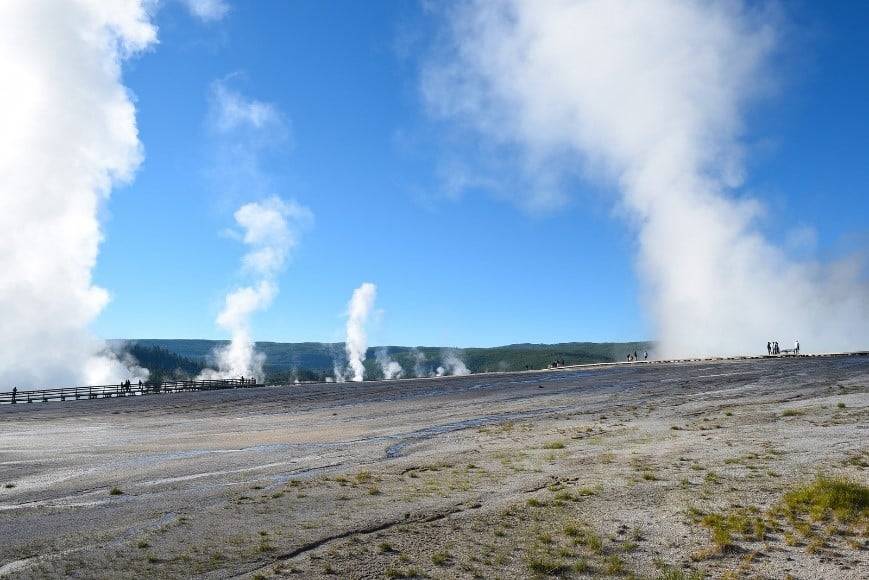 "Old Faithful Geyser, Yellowstone National Park"
With so much to see and explore its no wonder that Yellowstone is such a popular attraction. From the massive rivers and lakes to explore, to all of the animals you'll see along the way, you can pretty much be guaranteed to have a time you'll always remember at Yellowstone. If you do decide to vacation here, it's best to do so in the spring or fall, as the temperatures will be perfect for the outdoors.
Get in touch with nature at Yellowstone National Park or check out some other options by reading more here.