Tripps Travel Network confirms that travelers will find no better value in their accommodations than in Las Vegas.
Booking accommodations can often be the most expensive part of travel planning. This can sometimes lead to anxiety, as travelers in many cases are booking these accommodations sight unseen. Tripps Travel Network, a trusted leader in the travel and accommodations industry, removes the uncertainty from booking accommodations by evaluating resorts on a strict list of criteria relative to pricing. And now Tripps Travel Network can confidently announce that nowhere in the world will travelers get more for their money than in Las Vegas.
The awe-inspiring hotels of the Las Vegas Strip – The Bellagio, The Venetian, MGM Grand, and many others – are known the world over for their magnificent and unique architecture, and Tripps Travel Network can confirm that the suites inside these hotels are every bit as grand as their facades suggest. Decorated with care and precision, designed for maximum space, and often themed to heighten the guest's experience; there's not a bad room to be found. And these Las Vegas hotels offer far more than just stunning suites for their guests. Inside these hotels travelers will find world class shopping, Michelin starred restaurants, amazing shows, and of course large gaming floors. And for some rest and relaxation during the day Tripps Travel Network advises travelers not to miss out on the stunning pool areas, where guests can lounge in sun or shade, float down a lazy river, or just soak in the refreshing waters, all while being waited on by attentive and experienced staff. And all this is on offer at a fraction of the price it would cost to stay at similar hotels – few as they are – in other travel destinations.
For a slightly different travel experience Tripps Travel Network advises visitors to Las Vegas not to discount the high end resorts found off the Strip. In the areas surrounding the city resorts have more room to spread out, and create startlingly unique and luxurious atmospheres. It is at these resorts that guests will find stunning landscapes, amazing outdoor activities, and a chance to simply enjoy the natural desert beauty of Nevada away from the lively hustle and bustle of the city center. Tripps Travel Network highly recommends these resorts for visitors looking for a somewhat more sedate experience on their Las Vegas trip. And with the wonders of the Strip just a short ride away, these desert resorts offer the best of both worlds.
Tripps Travel Network knows that savvy vacationers want the best value for their money. As taking time off for vacation has become recognized as more and more important to leading a healthy and happy life, the available choices in destination accommodations have grown widely, bringing with it the need for a more discerning eye when it comes to bookings. Tripps Travel Network can say without hesitation that when it comes to value on the dollar no other destination rivals Las Vegas. For more information please visit http://www.trippstravelnetwork.com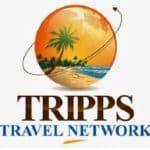 Tripps Travel Network
(888) 577-9850
[email protected]