LOS ANGELES, CA April 12, 2017.  Send Me On Vacation, Inc (SMOV) "Jets Pink" to Japan, Singapore and Thailand on Delta Airlines on the beginning of the 2017 World Survivor Tour, offering vacations to breast cancer survivors around the globe. The tour begins in Asia and works its way around the world on a seven-month journey.
Founder & President Cathy Backus and Global Director Julie Datwyler, both ex-flight attendants, use their resources such as buddy passes and accommodation donations to create healing vacations for breast cancer survivors around the world.
The tour starts on April 17 and circumnavigates the globe ending in October 2017. Vacations will be awarded throughout the world in Japan, Singapore, Thailand, Canada, United States, Mexico, Caribbean, France, England, Spain, and Italy.
SMOV's vacations are funded by companies in the travel and tourism industry. "We give to SMOV because it makes an immediate difference in the lives of the survivors and their families. We have donated money, frequent flier miles and vacation weeks. Every time we do, we see how the power of a vacation changes the life of a survivor in need," says Doug Murray, Resort Management Services.
Recipients are chosen through hospitals, cancer centers, and affiliated nonprofit breast cancer organizations. The purpose of each vacation award is to create positive change in the life of a survivor.
"After being diagnosed with cancer for the second time, I really needed a chance to heal from it all. Thanks to Send Me On Vacation, iMDirect Marketing, Grand Pacific Resorts, and Resort Management Services, my boys and I enjoyed a beautiful week in Princeville, Hawaii. Having this week together allowed us to bond in a renewed spirit of happiness that was lost in the stress of fighting cancer," says Jacque Ruddy.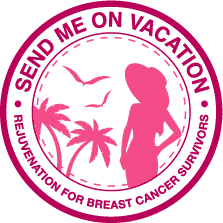 You can help support Send Me On Vacation's mission to raise money to fund healing vacations for survivors around the world on the charity's
Go Fund Me page
 or the
Donate Now button
at
www.sendmeonvacation.org
.