Marina Fiesta Resort & Spa providing the very best of Cabo. Cabo San Lucas is a small town. The destination of Los Cabos is a sprawling area between the two towns of Cabo and San Jose Del Cabo. Featuring several amazing beaches, beautiful golf courses and fun activities to experience throughout.
But the heart of Cabo San Lucas is and always will be centered on the hustling and bustling Marina CSL. Fishing tournaments, restaurants, souvenir shopping, and luxury shopping and everything that screams out Cabo can be found around the marina.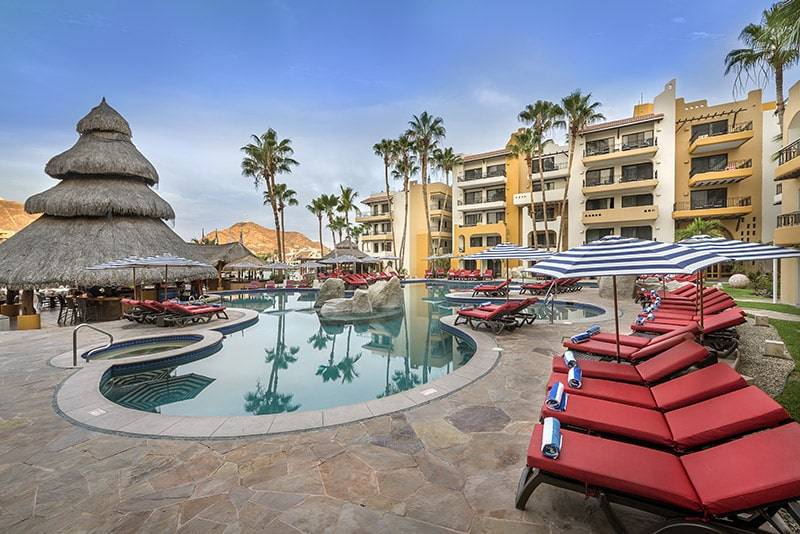 The marina is also stepped away from the famous Medano Beach, in fact, by walking along the original Founders Marina; one can walk directly onto the white sand from the boardwalk.
However, for those wanting a vacation in the heart of Cabo and on the marina, there are not very many options in this ultra-exclusive location. Being able to walk day or night to the best beach in town, the shopping and dining and nightlife are locations coveted by few and desired by many.
The marina Golden Zone is the strip of marina next to the Puerto Paraiso shopping plaza. Gucci, Rolex, Carolina Herrera, Mont Blanc, all have boutiques in this plaza, among others of course. This area also has the best restaurants on the marina as well.
The Golden Zone is also home to the popular family and couples resort; Marina Fiesta Resort and Spa.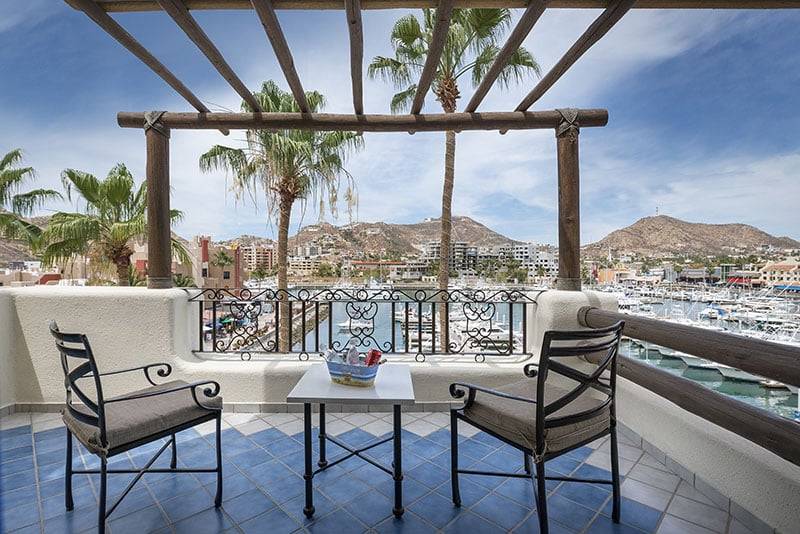 Marina Fiesta is a family owned resort and falls under the Mexico Grand Hotels ownership umbrella that also owns Hacienda Encantada Resort and Residences. This downtown Cabo location has enjoyed its location since its construction in the early 1990s. With a recent renovation the all-suite designed Marina Fiesta Resort & Spa has kept its boutique feeling, and added modern amenities and luxury finishing touches for guests to enjoy.
Marina Fiesta Resort & Spa On-site Guests can enjoy
A sky Gym, upstairs fitness center with views of the marina and ocean.
Studio to 2 bedroom Penthouse suites.
Multiple pools with snacks and beverages served poolside.
A full-service spa and beauty salon
Several dining options – Seafood, sushi, Italian, Mexican, Steaks and more.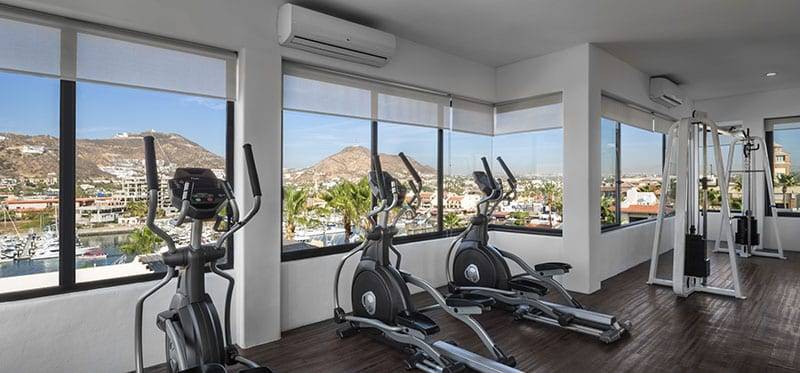 Marina Fiesta Resort & Spa
Aside from having luxury amenities and so much on-site, what really makes Marina Fiesta a true Cabo gem is the location. Being able to walk downtown avoids renting a car, paying for taxis, allowing visitors to have more money to spend on what really matters; vacation fun!
Marina Fiesta Resort & Spa literally being steps to the beach, water taxis, downtown and within minutes to everything else in Cabo it makes for the perfect getaway to experience all Cabo San Lucas has to offer.
With incredible special rates being created and offered, do not wait and  book your dream trip to Marina Fiesta Resort & Spa!
Read more – Catch the Action at Marina Fiesta in Los Cabos, Mexico