Celebrating New Year's Eve in Cabo San Lucas is a great choice! Cabo is the epicenter of fun and nightlife in Los Cabos, and the downtown area is buzzing with excitement. There are many amazing resorts to choose from in Los Cabos. Many resorts are located on the beach and in very exclusive parts of Los Cabos. In downtown Cabo however, the choices are quite scarce, the Marina Golden Zone is located right beside the famous Puerto Paraiso shopping plaza. Filled with restaurants, lounges, sports bars, and access to the top fishing fleets; the Golden Zone is the place to be. Also located in this exclusive section of a marina is the Marina Fiesta Resort and Spa. This resort provides luxury lodging options and amenities and access to one of the most happening spots in all of Cabo; downtown. For those looking to celebrate New Years, the resort provides the perfect spot, you are steps away from the action, and a late night out on the town is made easy by having your resort suite located in the heart of Cabo. Fine dining is within minutes or even in the Golden Zone, and the popular bars and nightclubs are right around the corner. Here are some of the most popular spots on NYE in Cabo!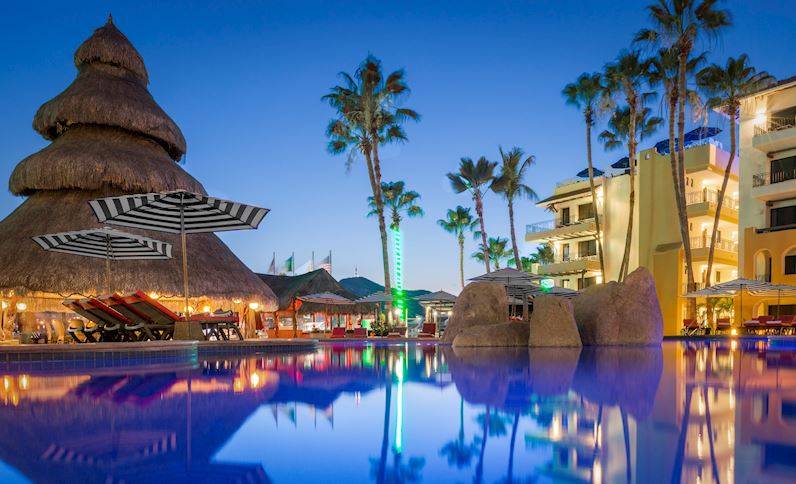 Mandala, Squid Roe, Señor Frogs, Abolengo, Cabo Wabo and The Giggling Marlin are some of Cabos famous nightlife spots. All located on the marina or near Marina Boulevard considered the "downtown" section. The downtown area is not that large, you can walk from one end to the other in less than 20 minutes. The entire marina is 5km, but the main boulevard and surrounding restaurants and shopping are combined in a 6 or 8 city block area. Most bars and clubs create special menus for the holidays and hire DJ's or bands and have special entertainment for their New Years bash. A top recommendation is to be close to the beach at 12 am. The firework show put on by all of the resorts and developments is unbelievable. The resort is only a few minutes walk to the famous Medano Beach and then nightlife, of course, is right around the corner. Dinner, fireworks and then downtown Cabo to party is the favorite itinerary of many Cabo visitors.
New Years is a popular travel time in Los Cabos both hotel and dinner and club reservations are recommended. Looking for a spontaneous New Year plan? Call or check out our website today and plan your dream New Years trip to Cabo and start 2019 off right at Marina Fiesta Resort and Spa.