Marina Fiesta Resort & Spa in Los Cabos, Mexico has won two exclusive rewards honoring their excellence as a vacation venue.
Resort Condominiums International (RCI) has awarded Marina Fiesta the Gold Crown Resort® Award and the RCI Hospitality Award.
These prestigious awards recognize the exclusive resort as a prime vacation venue, located on the marina in Cabo San Lucas, at Land's End on the Baja Peninsula.
The Gold Crown award is given to select RCI affiliated resorts and is the highest of the three RCI Award Designations. It recognizes resorts that have met or exceeded the high standards in the areas of housekeeping, maintenance, hospitality, and check-in and check-out procedures.
It also includes an evaluation of the resort facilities, amenities and services, recognizing that Marina Fiesta is a top vacation destination.
The RCI Hospitality Award is provided to Marina Fiesta for consistently achieving high ratings in the check-in/check-out and hospitality categories.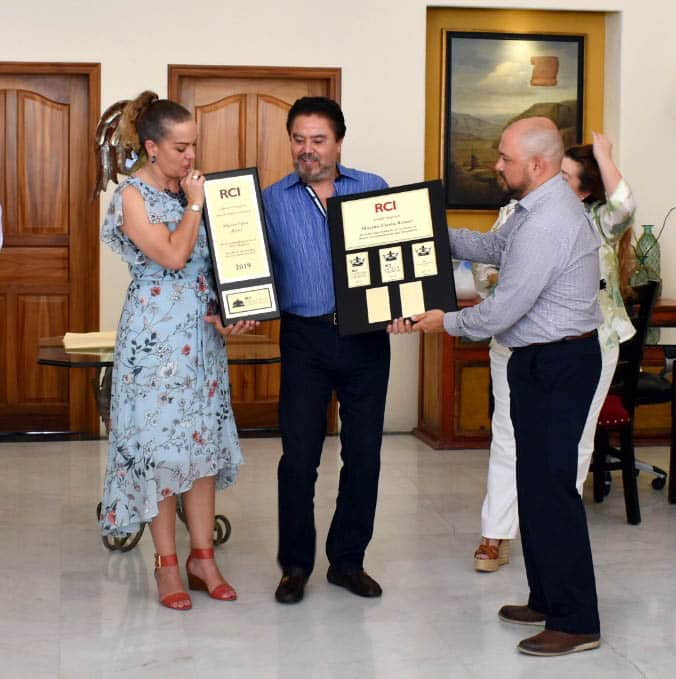 These awards confirm the luxury and service of Marina Fiesta Resort & Spa, an ideal location for couples wanting a romantic getaway, families wanting an experience to remember, or groups looking for a fun holiday.
Marina Fiesta brings guests the best that Cabo has to offer. It's located downtown on the marina, making it easy to walk around and look at the spectacular boats and luxury yachts. Watch the fishing boats leave in the morning or the cruise ships sail into the bay. Or get on a boat yourself by booking a fishing charter with the hotel's concierge service.
It's a short walk to Medano Beach, the heart of beach life in Cabo San Lucas. Take a water taxi to the iconic arch and Land's End, see the sea lion colony, or stop at Lover's Beach for a view over to the Pacific Ocean.
Lie back on Medano Beach and people watch or swim in the beautiful Sea of Cortez. Catch the action at the many bars and restaurants along the shore. It's easy to rent a paddleboard, wave runner or kayak, or watch others parasail or attempt to flyboard. There's no end to the activities at Medano Beach.
Right next door to Marina Fiesta is Puerto Paraiso Mall and Luxury Avenue, making it convenient to shop for luxury items for yourself or souvenirs for others. Steps away is downtown Cabo San Lucas, with a nightlife that needs to be experienced.
Or you can choose to relax at the resort and revel in this award-winning venue and its services. Catch all the action from Marina Fiesta's Sky Bar, book a luxury treatment at the spa, swim in one of the pools or hit the hot tub or swim-up bar.
Dining options abound at the resort, and at select restaurants and bars at the Marina Golden Zone. You can even access Marina Fiesta's sister resort, Hacienda Encantada.
Your vacation will be as award-winning as the resort if you book at Marina Fiesta Resort & Spa.