Portobello burgers
A commonly loved food source by many vegans and vegetarians, portobello burgers will make for a tasty alternative to any other burgers you may have previously liked, this recipe is top-rated so you can be assured that you will like it.
Ingredients
1/4 cup low-sodium soy sauce
1/4 Aged Balsamic vinegar
Two tablespoons of olive oil
Three garlic cloves – minced
Four nice sized to fit the bun, portobello mushroom caps
One small red bell pepper
1/4 cup vegan mayonnaise
1/2 teaspoon of olive oil
1/8 teaspoon of ground red pepper4
Onion sandwich buns
4 (1/4 – inch thick) sliced tomato
Four curly leaf, lettuce leaves
Cooking spray or a spray bottle with Avacado or Olive oil.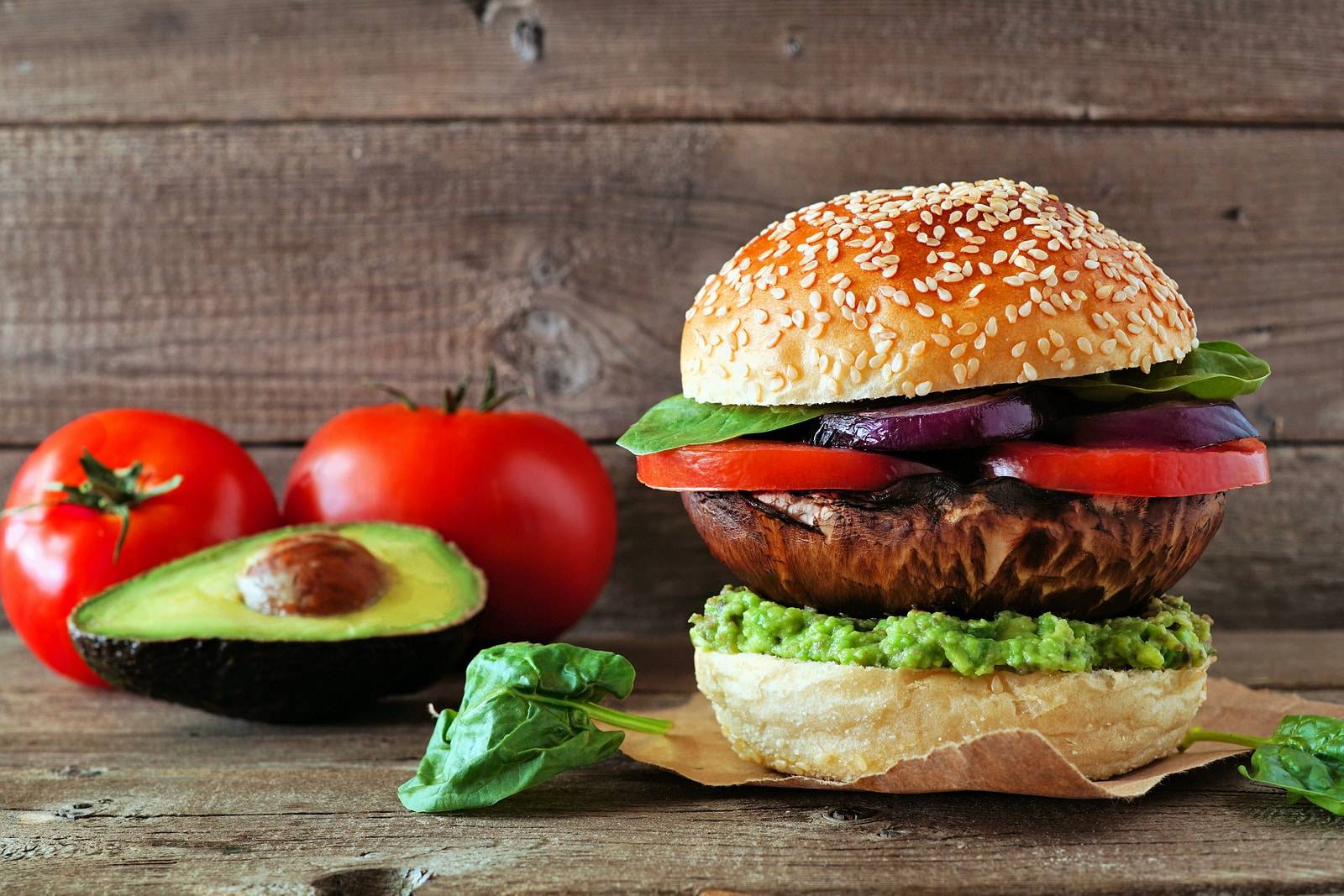 Remember the Coconut oil is used in many restaurant ones, yet they have as much saturated fat as regular meat. Coconut oil is not our friend.
How to make Portobello Burgers
To make portobello burgers, you will need to start by sealing the first four ingredients into a sealable plastic bag. These ingredients should be left at room temperature to marinate for roughly two hours. Now turn on the grill, then cut the peppers in half lengthwise, then coat the peppers in cooking spray and grill for fifteen minutes. When they reach a blackened state, place them in a sealable bag. Let the peppers stand for ten minutes. After that, carefully chop the peppers, then put them into a bowl, also place the mayonnaise and teaspoon of oil into the bowl and then stir thoroughly.
Next, you will need to coat the mushrooms in cooking spray and place them on the grill with the gills facing down. The mushrooms should be cooked for approximately 30 seconds on each side until toasted. Then spread two tablespoons of the mixture previously made onto the top half of each bun; this should be followed by placing each mushroom on the bottom half of each bun. Then, cover each mushroom with a tomato slice and a lettuce leaf. Now close the burger and enjoy!
There you have it, three delicious vegan/vegetarian-friendly recipes. Enjoy any of the burgers with any additional spices you feel may give the burgers any extra kick. Now that you know how to make them, there are no excuses, go and get creative!
Read more about Why Plant-Based Foods Are on the Rise