One of the lesser-known Unesco World Heritage Sites in Mexico is the Historic Center of Morelia, Mexico.
Built in the 16th century, the Historic Center of Morelia combines the Spanish Renaissance style of architecture with the Mesoamerican experience, and the historic center has over 200 buildings.
It is located in Central Mexico and is a must-see for all international travelers who are fond of history and also architecture lovers. The historic Center of Morelia, Mexico is so unique that pictures of it are often published in magazines such as National Geographic and Travel.
Historic Center of Morelia, Mexico is a Must See
The Historic Center of Morelia is a clean place with hundreds of sites for you to see. The Morelia Cathedral is a vast, Baroque-style cathedral at the very heart of the city center.
When you approach it, you will be able to see the twin towers that make up the front of the cathedral, in the pinkish brown color that is characteristic of most of the surrounding buildings.
Once you are inside the cathedral, you will get a view of the multiple different monumental items including the sculpture of a crucified Christ with a gold crown. Photo opportunities are plentiful as the interior of the church is absolutely beautiful.
The artwork, especially the fifteen pieces dedicated to the stations of the cross are each beautiful pieces separately, but taken as a whole, the collection is exquisite.
Be sure to pass through the Plaza de Armas which houses the church de la Compania de Jesus and Cusco Cathedral.
Here is where many festivals take place, and with the right timing, you can take part in one of them that will include the Mariachis and Mexican traditions.
There are also many restaurants in the area where you can stop and enjoy a sumptuous meal. They offer an array of local foods as well as the international foods, so there is something here to please everyone.
Guadalupita Church
A visit to Morelia would, of course, be incomplete without a mention of the hero, Jose Morelos. He was a priest who led the Mexican independence movement against Spain. He remains a hero to this day, and his name has been set in stone by having the center plaza, Morelia named after him.
There is the Casa Natal de Morelos, built in his honor, which is a building that appears as a fortress. It contains several of Jose Morelos' memorabilia that are from his life as well as historical details about his many accomplishments.
There is also a House of Jose Maria Morelos museum dedicated to him that is located in a home he stayed at as an adult. It displays some of his weapons, documents, uniforms and even robes he wore while performing his priestly duties.
All these would give you a deeper understanding of the history of this Center, by showing a history of the man who was such a vital part of the city's history. Last on Jose Morelos is a statue of him that is located in Plaza Morelos, named, once again, after him.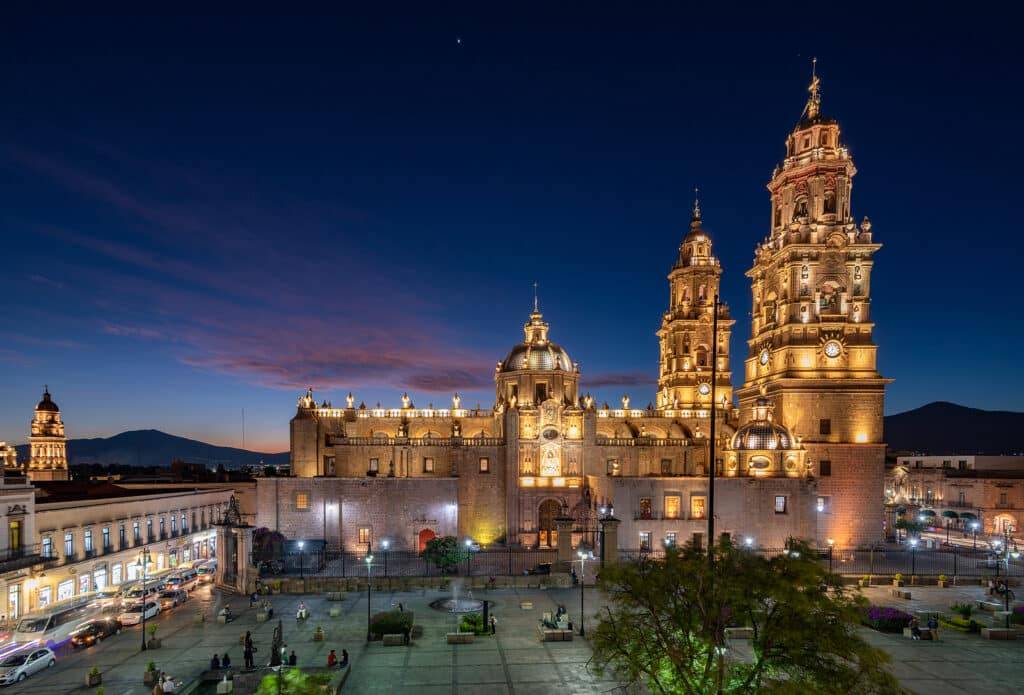 Majestic colonial cathedral in the core of Morelia, Michoacan.
There are many other sites available to visit while you are in Morelia. Do make sure to carry a good camera as there are architectural masterpieces from the 16th and 17th century all around you.
One special place many visitors enjoy is the Mercado de Dulces. This store is a large the candy market with many delicious treats to choose from and share.
In this same area, you can also find many shops with souvenirs to take back home to family and friends.
Read more about this magical place here. Or to learn more about other UNESCO world heritage sites, check out this article.