For holiday travelers, GlobeQuest Travel Club presents perfect holiday attractions and activities in Cabo.
For many people, the holiday season serves as a long awaited opportunity for travel. Spending time away from home during the holidays allows travelers to get lost in the events and celebrations of other cultures, and to turn a standard vacation into one that sparkles with the magic of the season. When looking for a holiday travel destination this year, vacationers can turn to GlobeQuest Travel Club for recommendations on how they can add the most extraordinary holiday attractions to their travel itineraries. This year, GlobeQuest Travel Club recommends heading to a beachside destination such as Cabo San Lucas to celebrate Christmas or the New Year with seasonal attractions that incorporate the sun and surf.
When arriving in Cabo San Lucas, travelers will find that there are many attractions that beckon travelers year round, but there are also many season options that will be available to travelers only if they visit during the winter months.
Some of the most enchanting seasonal offerings are those that are available out on the water. Fishing is abundant during this time of year, especially for serious anglers who want to challenge themselves with the tuna, marlin, and sailfish that thrive in Cabo's waters. For family entertainment there is also whale watching, a seasonal event that starts at the beginning of December. Humpback whales will be in the Cabo waters to breed and raise their babies, and travelers of all ages delight when they go out on boat tours to see the whales up close.
The holidays also offer ample opportunities for incredible entertainment in Cabo San Lucas, according to GlobeQuest Travel.
Sites like San Jose's main square and the nearby Todos Santos will be decked out for Christmas, and offer guests shops where they can appreciate unique holiday shopping opportunities. Topping off a day of Christmas shopping with a tour of local sites, fine dining throughout Cabo, or a relaxing evening on the beach will also put the perfect touch on a holiday stay. Cabo San Lucas is truly an ideal destination for winter travel, and this enchanting city can be visited now with the help of GlobeQuest Travel Club.
GlobeQuest Travel Club offers its members incredible opportunities for travel year round. From the ultimate luxurious resort accommodations in destinations across the globe, to travel experiences like cruises through beautiful locales, GlobeQuest Travel Club has fantastic options for its members. To explore of all of these travel opportunities during the holidays or in the New Year please visit https://www.globequesttravelclub.com/.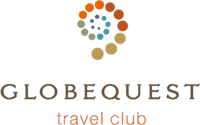 GlobeQuest Travel Club
1-877-610-6300
memberservices@globequesttravelclub.com