Fountain Hills Thanksgiving Parade is always a sensation, and this year a little weather warning saying there is a chance of rain will not stop this Holiday tradition. Fountain Hills Chamber of Commerce is not going to let anything prevent this from happening, and let's face it; the weather people are not always right.
From the first annual Fountain Hills Thanksgiving Parade in 1984 with ALAN CRUIKSHANK as the Parade Marshall to this year, 2019 has always been a Fountain Hills tradition. One thing about traditions we keep them going.
The Theme for this Year's Fountain Hills Thanksgiving Parade
PARADA DE LOS CERROS
Annual Fountain Hills Thanksgiving Day Parade in downtown Fountain Hills. This year's theme is "Songs of the Season," so get your floats ready! The parade starts at 9:00 am and last approximately 1 hour. A lot of the local businesses participate as well as the VFW, classic cars clubs, Girl Scout troops, school groups, and many others. With a few dozen floats, marching bands, dance routines, motorcycle shows, and Santa, it is sure to entertain.
We have put so much effort along with some of our proud supporting sponsors, such as:
Our Premier Partners

SRP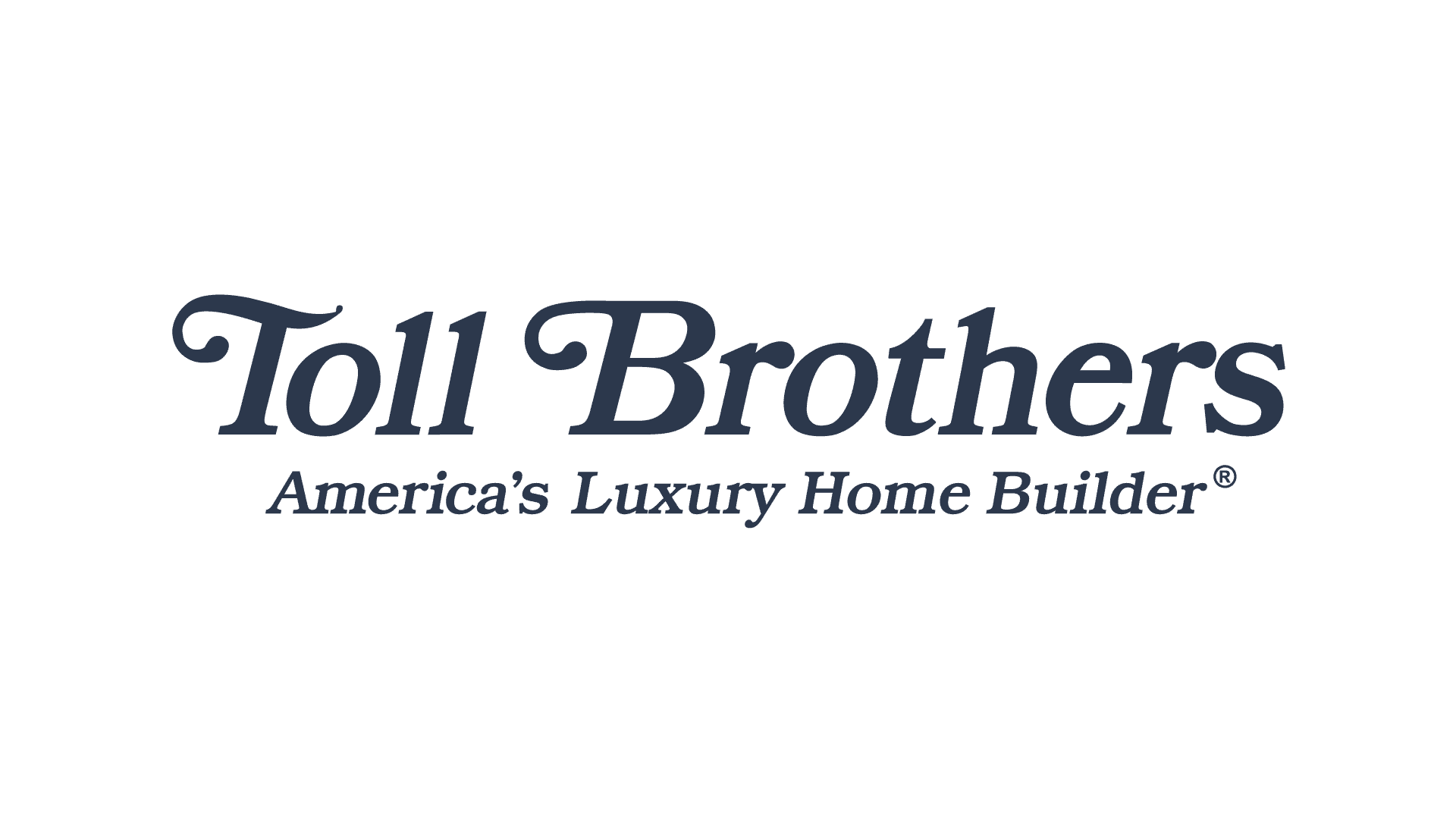 Toll Brothers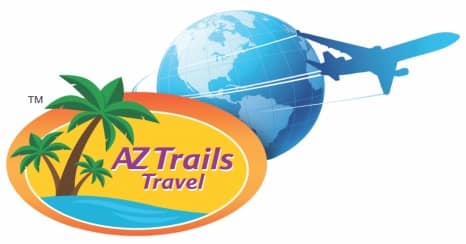 AZ Trails Travel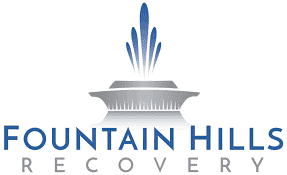 Fountain Hill Recovery


Republic Services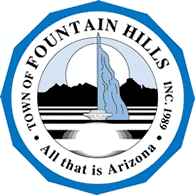 Town of Fountain Hills
And of the Fountain Hills Chamber of Commerce.
"This Fountain Hills Thanksgiving Parade is happening, we won't let a little rain stop our Parade," say's Betsy LaVoie, the President of the Fountain Hills Chamber of Commerce. So many people have worked long and hard, as they say, the show must go on, say's LaVoie.
Here are some handy parade routes to help you navigate your way to the biggest Thanksgiving Parade west of the Mississippi.
This will be so much wholesome fun, so bring the kids, and your friends have a great time.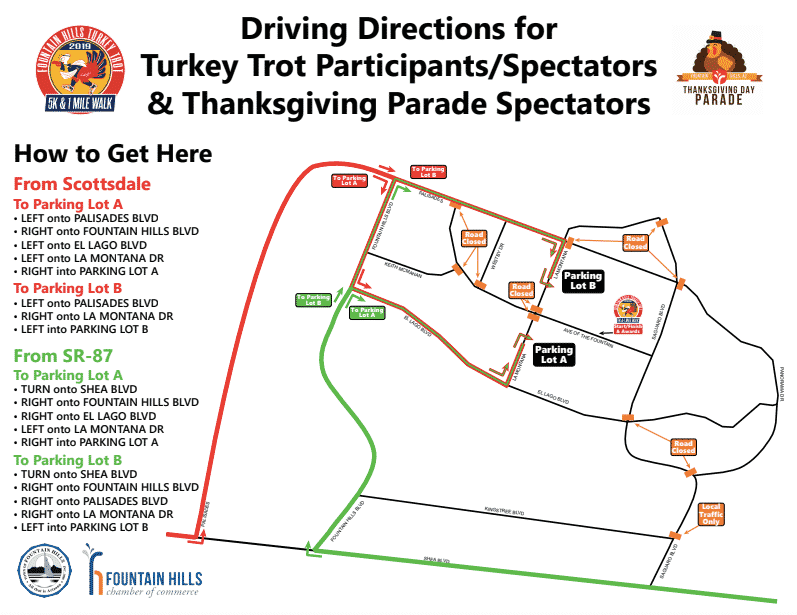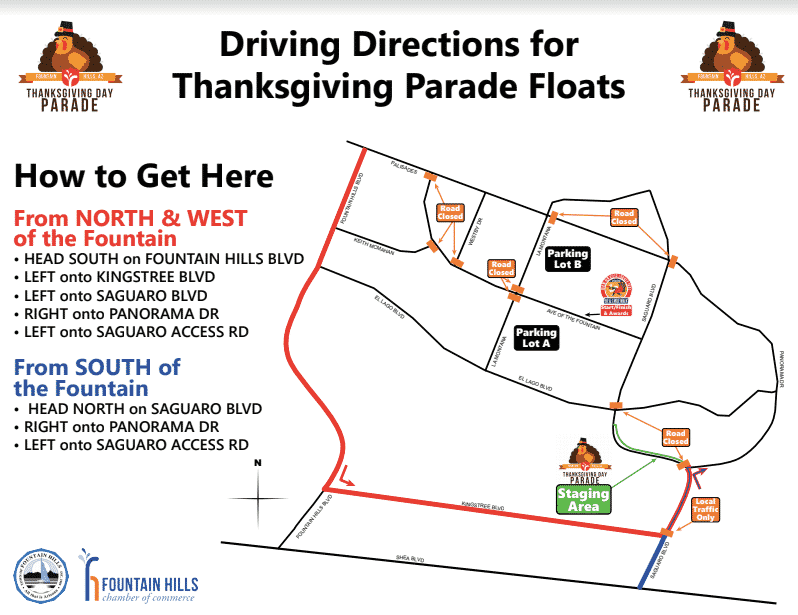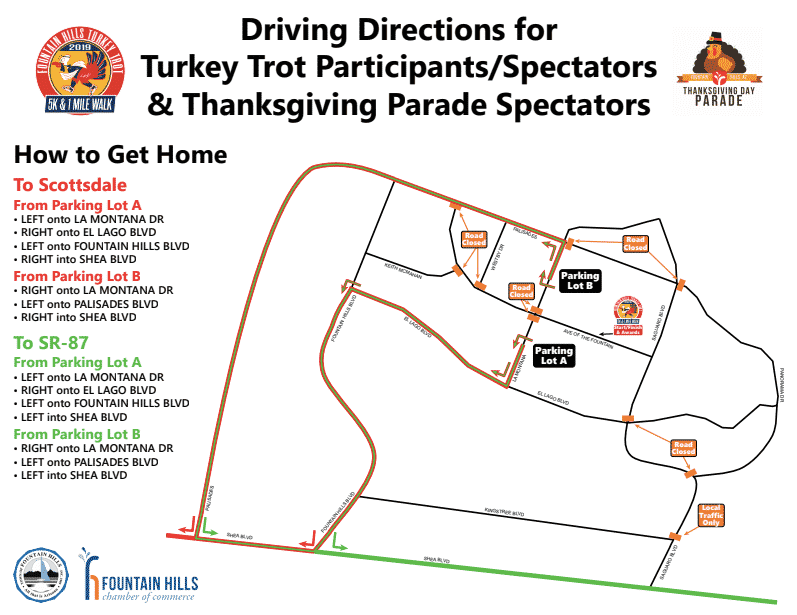 Happy Thanksgiving from all your friends at the Fountain Hills Chamber of Commerce