It's time to plan your summer vacation. Craving the resort life but want family time alone? Looking for a unique holiday for a group of friends? Seeking a romantic getaway with a combination of luxury and privacy?
All this can be yours at the Residences at Hacienda Encantada in Los Cabos, Mexico. The villas and private residences provide comfort and opulence, the solitude of what will seem like your own home, and access to the best summer resort in Los Cabos.
Hacienda Encantada Resort and Residences is located on the corridor between Cabo San Lucas and San Jose Del Cabo. It's perched on a cliff overlooking the scenic bay of Cabo San Lucas, giving you incredible views of the Sea of Cortez, the famous arch and Land's End.
You'll have a choice of 36 high-end accommodations at The Residences, the ultimate in luxury resorts in Los Cabos. Combining Mexican tradition and modern luxury, you'll be able to live like it's your own home, albeit one filled with opulence and beauty.
Your family time will be optimized in the three-bedroom villas, which include a private recreational area. There your family will enjoy a private pool with a swim-up bar, fire pit, patio and lounge area and lawn.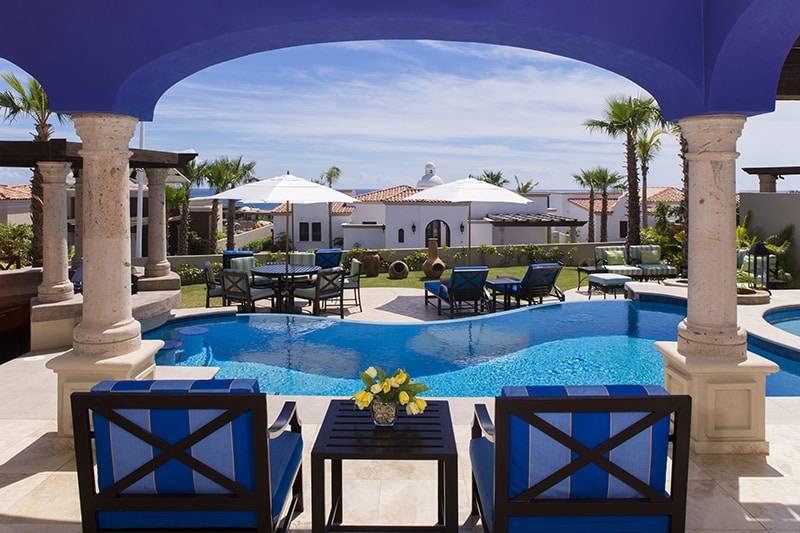 That unique vacation with friends can be accommodated in one of the four-bedroom private residences, which have a maximum occupancy of 12 guests. Besides the beauty of the furnished terrace, there's also a home theater and game room with a bar and winery.
A romantic vacation awaits in the one-bedroom master suite, featuring a king-sized bed, in-suite bathroom, spacious living room, full kitchen, dining area, whirlpool and second bathroom.
In between, there are also two-bedroom luxury villas, two-bedroom Encanto suites, and two-bedroom presidential suites. This exclusive family resort has everything you need.
Hacienda Encantada Resort and Residences is nominated for the prestigious Condé Nast Traveller 2019 Readers' Choice Awards. Besides its prime location and outstanding service, it also features an on-site spa, infinity pools, and many activities.
The resort's location also means you can take the opportunity to enjoy one of several championship golf courses, go to the beach, or head into Cabo San Lucas.
Opt for the Dine Out Privilege option, and this all-inclusive plan means you can dine at some of best restaurants in Cabo, including on-site restaurants and swim-up pool bars, as well as the Marina Golden Zone at the Cabo San Lucas marina.
You can also order room service to your Residence 24 hours a day, or arrange for private catering at an additional fee.
Summer specials make it easy to book this luxury resort. A four-night special saves you up to 55% and a seven-night special saves you up to 58%. If you're a late planner, the last-minute secret deal saves you up to 55% if you reserve 28 days before your arrival.
Bring your kids as from June 20-Sept. 30, kids under 12 stay, eat and play for free! You'll get a $150USD food and beverage credit as a bonus.
Whatever your choice of summer vacation, from a family holiday to a fun group getaway to a romantic excursion, Hacienda Encantada Residences will be the ideal choice for luxury resort living with the solitude of your own home.