Amsterdam considerable the most liberal cities in the world. Amsterdam has a life like no other. There are very few cities that can compare with Amsterdam.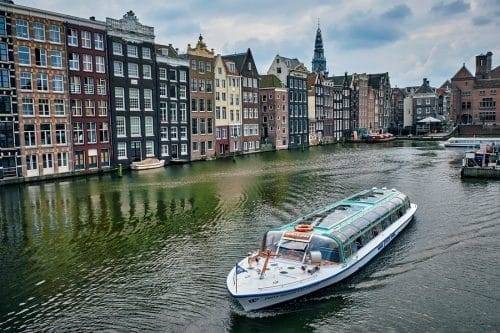 Canal cruise tourist boat in Amsterdam
Touring Amsterdam by canal boat is one of the best ways to truly appreciate the wonders of the fantastic city. Located in the Netherlands or Holland as some refer to it is the central hub for tourist from all over the world. You land at the airport called Schipol, and you can take a taxi or merely take the underground stairway and take a train to city center.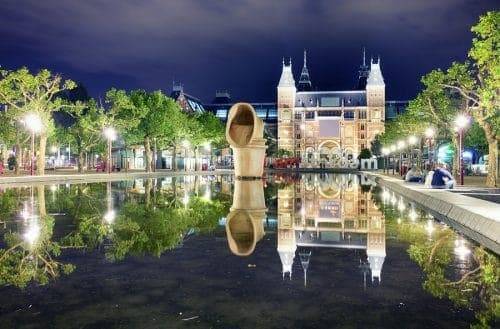 The Beautiful  Rijksmuseum  Amsterdam Museum area at night
Once you arrive to find your hotel and check-in. To avoid jet lag, travel experts suggest staying awake for a while then maybe taking a little nap. If not you may find yourself up at 3 am and may throw your sleep routine off. The city is filled with canals and sights like no other the diversity of the people are incredible they come from all over the world. The population is only 1 million, yet at any given time there are upwards of 3 million in the city.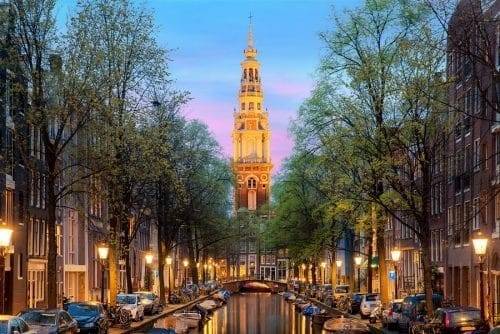 Amsterdam Zuiderkerk
The country has always been progressive having a needle exchange in the 70s and 80s to cut down on the spread of HIV and the fact that of drugs such marijuana have been legal for decades allows the police to focus on real crime. The Netherlands has been ahead of the curve for quite some time and is one of the top leaders in the Euro. Travel agent suggests while on vacation in Amsterdam check out one of the famous canal cruises the night time one is very lovely as the city is all lite up and very pretty. You will see famous sights such as the Anne Frank house were this brave girl hid from the Nazi's from 1942 to 1944 behind a wall. And many other famous sights.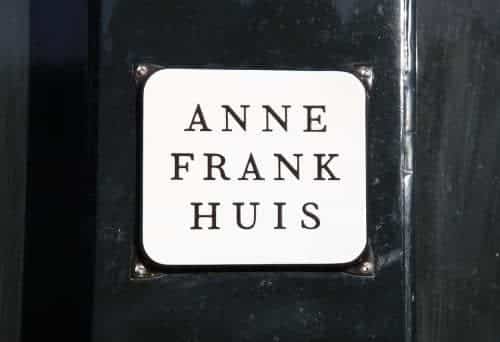 A biographical museum dedicated to Jewish wartime diarist Anne Frank, Amsterdam, Netherlands
The market is abundant, and the street food is from all over the world. The famous french fries called Frites are a Dutch specialty they serve them with mayonnaise and other sauces as you will quickly find out when you see the menu. Dam Square is another central spot. Most Dutch ride bikes and you can rent one and leave it in designated areas. Be careful they grew up here so they make it look so easy with streetcars or trams the traffic is quick so keep a watchful eye.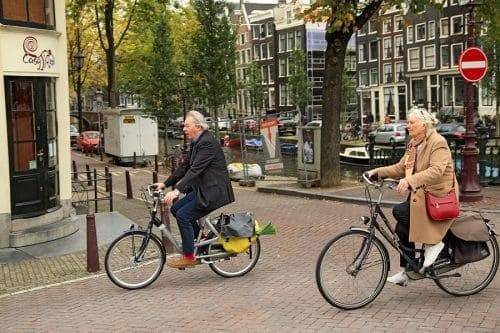 An elegantly dressed elderly couple riding the bicycles
Special tip – Avoid taking pictures at night in the Red Light district. This will not go over very well.
For more information please visit I Am Amsterdam.